'Shameless' Season 6: Full Preview, Start Time and How to Watch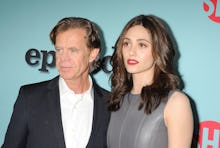 Jeffrey Mayer/Getty Images
Dark comedy Shameless is back for its sixth season, which will premiere Sunday, Jan. 10 at 9 p.m. EST on Showtime. The series follows the exploits of the Gallagher family, led by single father and dysfunctional alcoholic Frank Gallagher, played by William H. Macy. 
An edited version of the first episode of Season 6 is available to stream on YouTube, as a special early release before the season officially begins.
Season 6 picks up where the last one left off: Frank's love interest, Bianca, is dead, Fiona, the oldest daughter, is married-ish, Lip is having an affair with his professor, Ian has been diagnosed with bipolar disorder and Debbie just found out she's pregnant.
Shameless was originally based on a U.K. series by the same name. The U.S. version premiered in 2011. This season will be available for streaming on the network's website.