The Powerball Jackpot Is Now an Estimated $1.3 Billion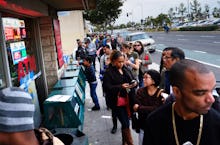 Richard Vogel/AP
No one drew the winning numbers in Saturday night's record Powerball jackpot of $949.8 million — now, the stakes are even higher. According to lottery officials, the jackpot may reach an estimated $1.3 billion. The next drawing is Wednesday evening. 
But not everyone is upset with the results. Gary Grief, the executive director of the Texas Lottery, told ABC News that 25 players walked away with $1 million in winnings, while three others won $2 million. 
Although some former lottery winners regret their decision to purchase their tickets and the odds of drawing the winning ticket have become 1 in 292.2 million, Powerball ticket sales have soared. At one point, 31 million Powerball tickets were sold in California alone at a rate of $3 million an hour on Saturday evening, according to CBS News.
A winning ticket must contain the six numbers drawn, but the first five numbers may come in any order. The winning numbers drawn on Saturday evening were 16-19-32-34-57 and the Powerball number was 13.