Sean Penn Interviews El Chapo for 'Rolling Stone' — And Is Very Sean Penn About It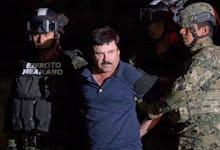 In an exclusive Rolling Stone interview with actor Sean Penn, fugitive kingpin El Chapo revealed that his freedom is what he cherishes most. Unfortunate, then, that it was this interview that delivered the drug lord into the hands of Mexican authorities, who have been hunting him since his spectacular escape from a maximum security prison in July.
"The trust that El Chapo had extended to us was not to be fucked with," Penn wrote of his seven-hour "clandestine" chat with Joaquin Guzmán Loera. "This will be the first interview El Chapo had ever granted outside an interrogation room, leaving me no precedent by which to measure the hazards."
Guzmán Lorera — whose nickname, El Chapo, translates to "Shorty" — captured headlines in July after he disappeared from his cell, dropping through a hole in his shower floor and apparently motorcycling through a very impressive tunnel to freedom. It was the kingpin's second prison escape in 13 years, as Penn wrote, and it launched a manhunt that proved unsuccessful until Friday evening, when the boss of Mexico's Sinaloa drug cartel was ultimately captured in a "bloody raid" by Mexican police and intelligence officers. 
The government began tracking Penn's movements when he visited the country to speak with the cartel leader — who was interested in having a biopic made of his life — in October, which led authorities to the ranch where Guzmán Loera had been staying. The attempt to apprehend him presumably resulted in the conflict that waylays Penn's follow-up interview plans days later, and allowed authorities to keep tabs on him in the interim.
Future interviews between the actor and the drug lord, it seems, will have to be conducted from within the confines of an interrogation room, or during prison visiting hours. This time, though, Penn won't need to make the grueling journey down to El Chapo's Sinaloa mountain hideout: It looks likely that he will be extradited to the U.S. to stand trial for drug trafficking charges. 
Would he agree to another meeting with the Hollywood actor after the first, shrouded in secrecy and Penn's promises that he wouldn't rat, helped land him back behind bars? Unclear.
In order to contact the drug lord in hiding, Penn enlisted the help of Mexican actress Kate del Castillo — who established a relationship with El Chapo after a controversial tweet — and newly appointed right-hand man, Espinoza, "the owl who flies among falcons," in Penn's words, who helped him navigate the foreign terrain of Mexico's Sinaloa mountain region. The actor maintained contact with the cartel chief via encrypted emails and Blackberry messages, piecing together what he labeled a balanced account of the criminal mastermind. The end result, though, reads a little lopsided.
Penn preserved an almost reverent attitude toward the drug lord, insisting that he takes "no pride in keeping secrets that may be perceived as protecting criminals" and noting Guzman Loera's curiosity about "what seems to be a probing of [Penn's] willingness to be vilified through associations." 
And indeed, the internet isn't looking too kindly on Penn's journalistic endeavor, which is a feat of aggrandizing language and syntactic oddities:
"We are the consumers," Penn wrote, "and as such, we are complicit in every murder, and in every corruption of an institution's ability to protect the quality of life for citizens of Mexico and the United States that comes as a result of our insatiable appetite for illicit narcotics."
"The War on Drugs has failed," he concluded.
El Chapo, meanwhile, is clear on his role, "I supply more heroin, methamphetamine, cocaine and marijuana than anybody else in the world. I have a fleet of submarines, airplanes, trucks and boats." Penn painted his subject as "a Robin Hood-like figure who provided much-needed services in the Sinaloa mountains, funding everything from food and roads to medical relief," while acknowledging that El Chapo built his empire by establishing a reputation as "a cold pragmatist known to deliver a single shot to the head for any mistakes made in a shipment." 
A bit of a paradox.
The actor pitched El Chapo a series of questions, which the kingpin answered in the course of a Blackberry-recorded video, BBMed to the film star. Penn asked about El Chapo's relationship to his mother — "perfect. Very well." — and how he got his start in the drug racket. 
"The only way to have money to buy food, to survive, is to grow poppy, marijuana, and at that age, I began to grow it, to cultivate it and to sell it," El Chapo said on camera. 
When asked whether or not he considered drugs harmful, the kingpin said, "Well, it's a reality that drugs destroy. Unfortunately, as I said, where I grew up there was no other way and there still isn't a way to survive, no way to work in our economy to be able to make a living."
Does he blame the people who produce and traffic drugs for the damage their products do, or does he blame the consumer, who drives demand for illegal substances? The consumer, it seems. "If there was no consumption, there would be no sales. It is true that consumption, day after day, becomes bigger and bigger," El Chapo explained. "So it sells and sells."
The product itself, as El Chapo tells it, is not responsible for the violence in which the drug trade is entrenched. And indeed, El Chapo claimed that he has little to do with that. When asked if he was a violent man, he answered with a simple, "No, sir."