Golden Globes 2016: Here's How to Follow Awards Show Online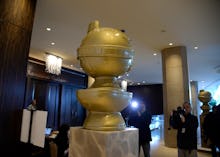 Kevork Djansezian/Getty Images
The 73rd annual Golden Globe Awards will air on Sunday night on NBC, and millions will likely tune in to watch. But for the many interested viewers without a television or cable, options for watching the ceremony are limited. NBC will not be live-streaming the awards show or the network's pre-show coverage this year.
Luckily, in the age of social media, it's easy to follow the play-by-play of a live event without actually watching it. Here's how to stay plugged into this year's Golden Globes even if you don't have a TV:
Follow on Twitter: The Golden Globe Awards have an official Twitter account which will likely be active throughout the night on Sunday. But beyond just the official channel, viewers will be sure to tweet out everything from weird facial expressions to any wardrobe malfunctions or major upsets that might happen throughout the night, probably using the hashtags #GoldenGlobes or #GoldenGlobes2016.
Check out Instagram: The awards ceremony also has an official Instagram account that will be a good place to check to see the fashion on display. Plenty of Instagram-loving celebs will be in attendance at the ceremony too, and may be snapping pics from the audience, including Amy Schumer, Gina Rodriguez and Lena Dunham.
Stream the red carpet: Even though NBC won't be live-streaming any of the NBC pre-show coverage or the actual ceremony, E! will stream red carpet coverage before the event, starting at 5:55 p.m. EST.