Frank Ocean New Album: Rich the Kid Hints at Collaboration on 'Boys Don't Cry'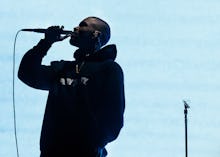 Andrew Chin/Getty Images
Frank Ocean's highly anticipated new album, Boys Don't Cry, has become something of a myth to the fans of the New Orleans singer. However, rapper Rich the Kid may have dropped a hint that Frank Ocean, at the very least, is in fact working on the album. 
In a now-deleted tweet, Rich The Kid posted a FaceTime screenshot of himself and Frank Ocean with the caption, "Me X Frank Ocean... Smh." After deleting the tweet, the rapper went on to retweet references to the potential collaboration. He then tweeted, "Hope y'all ready" to Complex, who made reference to the possible collaborative effort.
Read more:
According to The Fader, a source close to Rich The Kid has confirmed that Rich the Kid and Frank Ocean have plans to meet up in the studio.
In April, Frank Ocean dropped a hint that he would be releasing new music, to which many thought the singer meant he would release his newest album in July. A confirmed release date hasn't been announced yet.
Ocean debuted his solo album, Channel Orange, in 2012, which went on to win the Grammy for Best Urban Contemporary Album in 2013.