Best Golden Globes Red Carpet Looks From Past Shows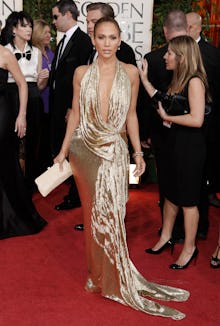 Matt Sayles/AP
With the 73rd annual Golden Globe Awards scheduled to air Sunday night at 8 p.m. EST, fans are already getting pumped for the amazing fashion that will be on display on the red carpet — which means it's a great time to take a look back at some of the most memorable looks from past Golden Globe Awards.
1. Jennifer Lopez
Jennifer Lopez absolutely slayed with this low-cut, metallic gold dress at the 2009 Golden Globe awards.
2. Angelina Jolie
Jolie kept it timeless and classy with this retro, long-sleeved gown at the 2011 Golden Globe Awards.
3. Lupita Nyong'o
Lupita Nyong'o looked radiant in a red, caped gown by Ralph Lauren in 2014 — hard to believe it was the actress's first time on the Golden Globes red carpet.
4. Alan Cumming
Alan Cumming broke free from the black-and-white blah-dom of red-carpet menswear at the Golden Globes last year with this tan-tastic tuxedo.
5. Emma Stone
Emma Stone rocked it in 2015 with a sweet Lanvin jumpsuit (that had a giant bow on the back) and proved that women don't need to wear gowns to look amazing.
6. Jennifer Lawrence
Jennifer Lawrence had a pixie cut and a white Dior gown with black accents at the 2014 Golden Globe Awards, and she looked super simple and super good — despite the mocking memes from the haters.
7. Sofia Vergara
Sofia Vergara wore this amazing, dark-blue, body-hugging Vera Wang gown to the Golden Globes in 2012, along with some serious bling.
8. Matt Bomer
Matt Bomer's deep-blue Ralph Lauren tux in 2015 totally brought out his blue eyes — yet another reason for men to ditch the expected black and white suits. Bomer also took home an award that night for his role in The Normal Heart.
9. Halle Berry
Halle Berry, hallelujah — the actress looked fierce at the 2010 Golden Globe Awards in this revealing, black Kaufman Franco gown.
10. Lena Dunham
We'll never forget Lena Dunham's awesome, sunshiney look at the 2014 Golden Globes when the actress wore this strapless, yellow Zac Posen gown.
11. Keira Knightley
Keira Knightley wore this little white strapless Valentino gown to the 2006 Golden Globe Awards, and people are still talking about how gorgeous it was.
12. Eva Mendes
Eva Mendes looked pretty breathtaking in her white gown with a dramatic bustle on the side at the 2009 Golden Globe Awards.
13. David Oyelowo
Selma's David Oyelowo was shining, shimmering and splendid in the sparkly blue suit he wore to the 2015 Golden Globe Awards.