There's Something Good That Can Come From Those Wildly Expensive Weddings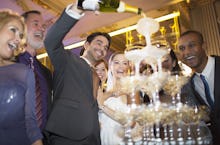 Weddings have gotten a little ridiculous. Last year, the Knot reported that the average American wedding cost an astonishing $31,213 to throw. Being a bridesmaid will also cost you, as most women know, as much as $701 on average, and simply being a guest at a wedding in the United States now costs $673.
Whether you're an attendee or a member of the wedding party, you're doomed to drop some dough, especially given how involved weddings have gotten. Those chalkboard signs telling guests that they are present for a wedding? Those frames that guests hold up to create the illusion that they're in the picture? The individually printed cards informing you of the wedding hashtag? First of all: Why? Second of all: No. 
Which leads us to a third question: Aren't there better things to spend money on other than gifts from your lovebird friends? Or a dumb bridesmaid dress you'll never wear again? Or even on your own wedding that — repeat after us — will only last one day? Can something good come from spending thousands of dollars on flowers or food?
The answer is yes. This is how: 
That bridesmaid dress you don't want anymore could transform a teen's day.
So, you're a bridesmaid. Sucks a lot, doesn't it? Well, there is a light at the end of the money-sucking tunnel. After you've dropped upwards of $700 and your friend says her vows (and you vow to never speak to her again), turn your attention to that dress. Do you burn it? No, of course not, much as you want to. You take that purple halter top dress with the flower on the side and think, "Who wants this more than I do?" The answer: A fashionable teen. 
A number of prom dress charities across the country take bridesmaid dresses, including the nationwide Operation Prom, which accepts any formal dresses that could work for a high school prom. Fairy Godmothers, Inc. also accepts gowns and bridal accessories fit for a cool teen, as does the Glass Slipper Project, which is based in Chicago. Becca's Closet, based in South Florida, has several chapters accepting dresses as well as accessory donations (meaning those matching, gently used dyed shoes can go too). Across the U.S., plenty of small, local charities will accept that lilac monstrosity that someone else will love for free.
That wedding dress everyone obsessed over for months can be passed on to another deserving woman.
A bride hunts for it for months. She drags her friends and family around town, from boutique to boutique, arguing over sweetheart necklines and dropped waists. But after one single wear, it will hang in the back of her closet in a plastic bag, slowly yellowing until she decides to pass it on or (sadly) throw it away. 
Now, there are alternatives to the cycle of waste. Several organizations are offering to take it off their hands and donate it to a good cause. Brides Across America accepts dress donations that then go to military brides, donating more than 2,000 dresses a year. And in addition to dresses (which must be less than five years old), Brides Across America also accept veils, tiaras and accessories, and works with local bridal boutiques to organize collections.
St. Anthony's Bridal in Rockville, Maryland, also accepts donations, reselling dresses for around $100 each — a bargain compared to the average American wedding dress, which costs a whopping $1,357. There's also Brides for Haiti, which collects wedding dress donations for women in the island nation. There are plenty of other options for donating a wedding dress and making that thousand-dollar clothing purchase worth it — for a master list, head on over to DonateMyWeddingDress.org. 
That ring that's lost meaning (for whatever reason) can make a big difference to someone else. 
Let us present you with a vague situation: You (or someone you know) have a ring you don't want anymore. It could be from a man or woman who's no longer lovingly in the picture, or perhaps the ring style itself has fallen out of favor. What to do? There's the pawn shop option, but that can feel icky, so it may seem like a good time to donate the ring to something more meaningful.
Options include the global do-good organization the Rings of Hope Project, which, in partnership with Tough Angels, will take unwanted jewelry and make a donation of the jewelry's value toward helping end rape and violence against women and children in Africa. There's also the California nonprofit With This Ring, which sells rings and uses the profits to drill wells for clean water in developing nations across the world. (The organization is also pretty evangelical Christian, if that's your sort of thing — or not.)
Those flower centerpieces that caused a million arguments can bring joy to a whole new set of people. 
It's around 10 or 11 p.m. and guests are starting to trickle out of the reception hall. (If a successful party was thrown, they're actually stumbling.) Your glazed-over eyes scan the room, and you notice something: Those flowers that you know cost thousands of dollars are just sitting there. Sitting there with nowhere to go. They're like Molly Ringwald in Sixteen Candles.
Sure, you can take them home and sprinkle them in your bathtub like you're Mariah Carey on Cribs. But you could also donate them. If you are located in Palm Beach County, Florida, the charitable org Petals With Purpose actually offers to pick up the flowers immediately after the nuptials and donate them to a local organization of your choice to benefit the elderly, children or those living with disabilities. There's also Random Acts of Flowers, which has location hubs across the U.S. and will pick up the arrangements, repurpose them into new bouquets and send them to healthcare facilities in the area. If you're in the Seattle area, Floranthropy offers a similar service. 
Wouldn't it feel good knowing that those bouquets of hydrangeas and lilies, which were painstakingly chosen over a period of months, are being enjoyed by someone new? 
That Hawaiian buffet you waited in line for (for what felt like 4 hours) for can do a lot of good for someone else.
In stark contrast to all the dieting and Spanx'ing that had led up to the wedding, the reception will inevitably include far too much food for anyone to physically fit into their bodies, especially if it's a buffet.
If at the end of the night there's still plenty of food in the kitchen, you can contact Feeding America, which can connect you to a local food bank thanks to an online network of more than 200 food banks and food-rescue programs. There are also caterers who offer to donate, like Ohio-based Two Caterers, which donates leftover food to local charities like the YWCA. There are also "food runners," extremely helpful people who pick up food after events and take them to local charities. 
Then, you know, there's gifts. 
Instead of the mashed potato masher from your friend's Bed Bath & Beyond registry, ask your friend if giving to a charity in their name would be an acceptable gift. If your friend is not an asshole, they will say yes. Entire organizations like the I Do Foundation have been created to help couples directly incorporate charitable giving into their weddings, from donating to charity in lieu of favors to creating a charitable registry instead of a gift one.
Because hey, if weddings are going to suck you financially dry, might as well do it for a good cause.