Iggy Azalea Drops New Single "Azillion" — Listen to it Here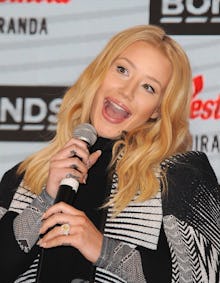 Mark Sullivan/Getty Images
Despite her 2015 controversies, Iggy Azalea is gearing up for a big 2016 — the Australian artist is set to release a new album sometime this year, to be titled Digital Distortion, and over the weekend she released the album's first new single: "Azillion."
Source: Soundcloud
Iggy tweeted out a link to the new song along with a message saying "4 MY RATZ ;-)" ... which is apparently a nickname she has for her fans. Her announcement was met with a ton of replies on Twitter, some from fans who were super-happy to hear a new Iggy track:
But not everyone was psyched for "Azillion."
Love her or hate her, it's pretty clear that Iggy Azalea is here to stay, at least for a while.