Rihanna and Drake May Have Shot a Music Video in Los Angeles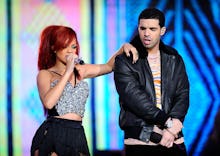 Kevork Djansezian/Getty Images
Recent rumors suggest that megastars Rihanna and Drake filmed a music video together in Los Angeles over the weekend, for a song that may appear on Rihanna's much-anticipated new album, titled Anti. A photo of what is reportedly a leaked casting call for the music video made the rounds on Twitter last week, Complex reported, and lists the project name as "Rihanna ft Drake 'Work,'" and the two artists were allegedly spotted together on set in Los Angeles.
It wouldn't be out of character for Rihanna to have some big names, including Drizzy, making guest appearances on Anti. She's already reportedly working with Sia on the new album, and her recent collabs with Kanye West and Paul McCartney may appear on Anti.
A witness to the alleged Rihanna/Drake music video tweeted out a video clip on Sunday that features what may be a "little snippet" of Rihanna's new song "Work." 
Only time will tell what Rihanna and Drake were really doing together in L.A. this weekend — but Rihanna fans are hoping that all the mysteries surrounding the release of Anti will be revealed sooner rather than later.