'Pretty Little Liars' Season 6B: Full Preview, Viewing Info and How to Watch Online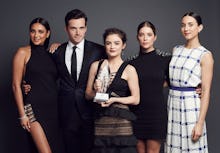 Pretty Little Liars will make its much-anticipated return on Tuesday, Jan. 12, at 8 p.m. Eastern on ABC Family (soon to be renamed Freeform). When we last saw the girls of PLL, they had just realized that "A" was actually Ali's long-lost sister Charlotte aka CeCe aka Charles (Vanessa Ray). 
A final showdown sort of tied up the drama of the past five seasons, and the girls were ostensibly all poised to go off to college. But we obviously won't see much of that because it's boring —  the new episodes will pick up five years after the events of the first half of the season with Spencer (Troin Bellisario), Aria (Lucy Hale), Hanna (Ashley Benson) and Emily (Shay Mitchell) all returning to Rosewood.
From the teasers and promos that have been released so far it looks like, despite everyone getting new, grown-up haircuts, things are mostly the same for the PLL crew. Meaning that "A" may still be after them, they still can't trust the police to help and they have to have lots of meetings to come up with plans.
New episodes of Pretty Little Liars will air on ABC Family and stream online via the network's website.