State of the Union 2016 Address: Preview, Start Time and How to Watch Online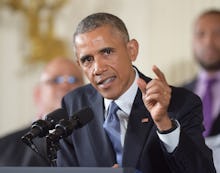 Xinhua News Agency/Getty Images
President Barack Obama will deliver his seventh and final State of the Union address this Tuesday, Jan. 12, at 9 p.m. Eastern. Obama will speak before a joint session of the U.S. Congress and touch on a variety of topics, including the economy, climate change, foreign policy, health care and social progress, according to the White House.
The address will livestream online on the White House's website and on the official White House YouTube.
Obama will likely take time to look back on his years in the presidency as well as speak about the country's long-term future. In a preview of the address, uploaded last week, Obama discussed both the progress that has been accomplished and the change to come in his final year in office.