Bryce Dallas Howard Gets Real on the Red Carpet: Yeah, I Wear a Size Six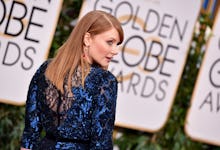 On Sunday night, actress Bryce Dallas Howard stepped out on the Golden Globes red carpet in a shimmery, royal blue gown designed by Jenny Packham. She looked great, of course, but there was something else notable: During an interview with E! News' Giuliana Rancic, Howard thrilled the internet when she revealed how she made the decision to wear the dress.
Unlike many A-list actresses with stylists dashing around Los Angeles, snagging sample-sized gowns straight from designers like Givenchy and Armani, Howard bought the dress herself from a Neiman Marcus store. 
"You picked it up yourself? You went and bought it yourself?" Rancic asked, visibly shocked. 
Howard then elaborated on why she did. "I like having lots of options for a size six, as opposed to maybe one option," she said. "I always go to department stores for this kind of stuff."
Her answer lit up the Twittersphere, with fashion critics and commentators letting out a sigh of relief at the honest take on how an actress who may not fit into sample sizes (which are commonly a size zero or two) manage red carpet season. 
Not only did Howard admit to shopping for the gown herself at a store that we normals could theoretically shop at, but she made it a point to state her size. Hearing an actress unashamedly state her non-zero size is refreshing, especially on a nationally televised red carpet, where women's physiques are under a literal microscope. 
Of course, it's not exactly news that it's tough for actresses above a sample size to get a quality red carpet gown by a big-time designer. Melissa McCarthy and Rebel Wilson have been outspoken about how unglamorous it can feel to find a great dress before a public appearance. As McCarthy told Redbook in 2014, "Two Oscars ago, I couldn't find anybody to do a dress for me. I asked five or six designers — very high-level ones who make lots of dresses for people — and they all said no."
In response to Howard at the 2016 Golden Globes, Rancic had to get in on the convo and say, "I feel you sister," which Twitter certainly had a few words for, as well. 
OK, sure, Giuliana. But still, we welcome Howard's proud "size six!" proclamation any day. After all, awards shows are one of the few moments viewers get to see stars without airbrushing or retouching, just moving and breathing. It's an important time to keep in mind: Even if the stars all look like size twos, they're not — and that's more than OK.