Katy Perry Unveiled Bumpit on Red Carpet, and Jennifer Lawrence Was as Confused as We Were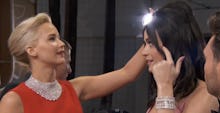 Typical red carpet accessories include diamond earrings, a nice clutch, a stunning bracelet or even a manicure, back in the days of the Mani Cam (RIP). But at the 2016 Golden Globes, Katy Perry took things to a new level.
An as-seen-on-TV level, actually. 
On the Golden Globes red carpet Sunday, Perry wore a Bumpit in her hair. 
Don't act like you don't know what we're talking about. Don't act like you don't remember the greatest infomercial of all time. 
An invention Time magazine once included in its "50 worst inventions" list, the Bumpit is back on the scene. During a red carpet interview with Ryan Seacrest, Perry admitted to wearing the hair-volumizing accessory that retails for less than $6 on Amazon. 
"I'm wearing a Bumpit!" she crowed. 
And most people on the Internet... well, they looked up from their takeout and they noticed.
Perry even let actress Jennifer Lawrence cop a feel... 
... which she probably thought was particularly clever given Lawrence's role in this year's Joy, playing a female inventor whose products hit big on TV shopping networks like QVC and HSN.
"I have a Bumpit in here," Perry says, pointing to her voluminous poof. "An as-seen-on-TV Bumpit." 
"Yes, you do," Lawrence said. (Clearly, she was less amused about it.)
Hilariously enough, this isn't the first time Perry has been linked to the small plastic dome, with Allure magazine wondering whether she used them last year. 
Although this seems like a much more official endorsement of the product, there's no news yet on whether this will be a new endorsement deal for Perry. As for whether this will become a legitimate trend, proof will be in whether or not they sell out by the morning. After all, this is one of the most accessible red carpet trends we've seen in a long time. At least there's that?
Get the five stories that will challenge you to rethink the world by signing up for MicCheck Daily.