Ryan Seacrest Struggled to Ask Women About Anything But Clothes — Even When They Mattered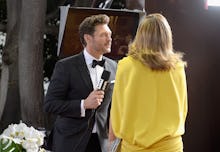 The campaign to get reporters to ask female stars more substantive questions on the red carpet has been a high-profile one, with the hashtag #AskHerMore going viral and celebrities like Reese Witherspoon voicing their support. L'Oreal even got in on the action, unveiling its #WorthSaying campaign for Golden Globes night. 
Miraculously, it seems to have worked. Sort of. 
The inescapable red carpet question "Who are you wearing?" has slowly become escapable after all, as evidenced at Sunday night's 2016 Golden Globes. E! red carpet coverage host Ryan Seacrest — the paradigmatic pre-awards show on-air personality, on the paradigmatic network for analyzing women's clothes  — dished out noticeably fewer questions about the actresses' outfits. When he did ask about someone's dress or jewelry, he did so at the end, treating the question like an afterthought or chore.
But the questions Seacrest and his fellow reporters did ask didn't exactly qualify as "more," as they failed to replace "Who are you wearing?" with anything particularly hard-hitting about the women's work or thoughts on hot topics. 
Uzo Aduba is a star of Orange Is the New Black and recently appeared in The Wiz Live! She's been outspoken about, among other things, embracing her "imperfect" beauty and the importance of racial diversity in Hollywood. Yet, Seacrest asked her about her recent trip to Hawaii. 
Zendaya, quite possibly the most outspoken young celebrity on the topics of identity, race and cultural appropriation, was asked about producer Harvey Weinstein.
Rooney Mara was asked about her role in the Golden Globe-nominated Carol, but with questions that barely made any sense. "In Carol, you work a lot with your eyes. Was that in the script?" Seacrest stumbled.
Instead of going deep on the topics that matter, Seacrest seemed to just ask women about anything other than fashion. In doing so, he missed the opportunity for some rich conversations, including ones about clothes. Seacrest made a point to ask Jason Sudeikis about his shoe choice. (Which was worth it, considering they were low-top Jordans worn with "a matching stained stock to go with my lady's dress".)
But there were plenty of women whom he didn't ask about clothing at all, where their clothing could have in fact been an important conversation. Melissa McCarthy, for example, has been an advocate for plus-size shoppers, a Hollywood voice bringing body diversity to the fore. But Seacrest didn't ask her about her outfit at all, despite the fact that she has a new clothing line and was accepted to the Fashion Institute of Technology. She speaks from a designer's perspective, touching on issues that matter immensely to women.
The push to banish fashion talk from the red carpet is well-intentioned. No one can argue with the fact that women should receive just as many questions about their careers as men, and that women are far more interesting than their outfits. But fashion can be important in certain contexts, and red carpets are one of them. 
As Gina Marinelli wrote for Refinery29, events like the Golden Globes are important for the fashion industry. The red carpet can catapult designers and brands to household-name recognition, and trends that crop up on the red carpet can and do trickle down to malls and catalogs, finding their way to proms across America. 
Talking about clothing isn't inherently bad. In fact, it can be incredibly worthwhile, "partially because of the red carpet's power as a brand-building tool for designers," Marinelli wrote, "but also because talking about style choices is a completely valid thing that we want women to feel empowered by ... and about." 
The point of #AskHerMore and campaigns like it should be to ask the best possible questions — the ones that are hard-hitting, prompt rich conversation and respect the woman at the other end of the microphone. Those may be about fashion. They may not. They should just be questions worth asking.