Eva Longoria and America Ferrera Used the Golden Globes to Make a Point About Latinas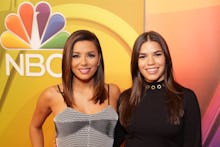 After a fairly sharp jab at 2016 presidential candidate Donald Trump's anti-immigrant stance from host Ricky Gervais, Eva Longoria and America Ferrera took to the Golden Globes stage to present the award for lead actor in a drama TV series. 
Longoria spoke first, noting that she was in fact the Desperate Housewives and Telenovela star — not actress Eva Mendes. Ferrera then added that she was the Ugly Betty and Superstore star Ferrera and not Jane the Virgin star Gina Rodriguez. 
"And neither one of us is Rosario Dawson," Longoria joked. 
The two continued the bit, with Ferrera calling Longoria "Salma," a reference to Mexican actress Salma Hayek, while Longoria finished out the sketch humor by calling Ferrera "Charo," a reference to the Spanish classical guitarist and reality TV star. 
While the bit was lighthearted, Ferrera and Longoria were sending a larger message about Latinas in Hollywood, and perhaps even taking a jab at the Golden Globes itself. During the nomination telecast, the Golden Globes confused two actresses and tweeted that Gina Rodriguez would be revealing the nominees, while Ferrera was in fact the event's emcee. 
The bit of humor is ironic for more than one reason: Not only are the two starring in separate NBC Latino-led sitcoms on Monday night — Longoria on Telenovela; Ferrera in Superstore — they also spent a lot of 2015 talking about the unique challenges Latinas face in Hollywood. 
After appearing in Billy on the Street's "LaTina Fey" sketch, in which Billy Eichner asked Fey to name 20 Latino entertainers in under one minute, Ferrera starred in a parody of the sketch in which she tried to name 20 white entertainers in under a minute. Ferrera also spoke to the Huffington Post about the lack of diversity in Hollywood. 
Longoria spent 2015 doing philanthropic work trying to empower women in the Latino community, and spoke to the now-defunct Glam Belleza Latina about why she believes it's so important. 
"The future success of America is intricately tied to the future success of the Hispanic community," she told the magazine. "And it's the women of these communities — the mothers, sisters, daughters — who make the world go around." 
Unfortunately, one Twitter account demonstrated why Longoria and Ferrera's comments this year were necessary. After the two actresses' bit, MTV Australia tweeted, "Where are the English subtitles? We have no idea what @AmericaFerrera and @EvaLongoria are saying #GoldenGlobes"