Taraji P. Henson Celebrated Her Golden Globes Win in the Most Delicious Way Possible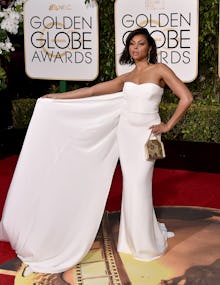 How does Cookie Lyon celebrate? She passes out cookies, of course.
When Taraji P. Henson won the Golden Globe for best actress in a TV series drama for her role in Empire, she passed out her character's namesake treat to anyone and everyone around. 
Yes, that includes Lady Gaga.
"Cookies for everyone tonight!" she said as she approached the mic with the Golden Globe in hand. "My treat."
Had her speech just been a delicious joke, it would have been enough. But Henson had more to say. 
"Please wrap?" she said incredulously to the teleprompter. "I waited 20 years for this. You gonna wait."
Henson marked the occasion with incredulousness that Cookie Lyon of all characters would be her most popular ever. "Who knew that playing an ex-convict would take me all around the globe?" she said. "It just goes to show, I thought it would be Queenie, I thought it would be my character from The Karate Kid. But it's Cookie, who spent 17 years in jail for selling crack. OK!"
It may have taken Cookie 17 years to get out of jail — and Henson 20 years to get to that stage — but victory is truly sweet.