David Bowie Dies at 69 — Here's How Everyone Is Paying Tribute to His Genius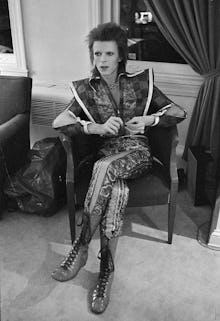 Brian Horton/AP
Monday morning brought the somber and startling confirmation that beloved British musician David Bowie died on Sunday. A statement uploaded to the artist's Facebook page confirmed the news.
"David Bowie died peacefully today surrounded by his family after a courageous 18-month battle with cancer," the post read. "While many of you will share in this loss, we ask that you respect the family's privacy during their time of grief." Bowie, who was born David Robert Jones in London, celebrated his 69th birthday on Friday. Prolific until the end, the artist also marked his birthday with a 25th studio album, Blackstar.
The artist's passing follows a monthslong battle with cancer.
Bowie's son, film director Duncan Jones, confirmed the news in a Monday morning tweet, which read, "Very sorry to say it's true. I'll be offline for a while. Love to all."
Responding to the news, rock royalty and a good friend of Bowie's, Iggy Pop, published a statement on Facebook. "David's friendship was the light of my life," he wrote. "I never met such a brilliant person. He was the best there is." Pop wasn't alone in expressing grief on Monday morning. A veritable outpouring of reverent comments populated social media as people around the world awoke to the news. Musicians, artists, fans and friends were shocked and saddened by the artist's passing.
As early as Monday morning, memorials dedicated to Bowie's remembrance emerged. Here is a roundup of just some of the tributes erected in honor of the iconic artist the day after his death: 
Bowie's achievements were many, and the inimitable artist's iconic canon of work has inspired no small number of musicians who've come since. A recording artist, actor, husband and father, Bowie's life's work was larger than life itself, and the artist has left in his wake an unparalleled legacy.
During his career, Bowie's image and sound not only shifted with the times, but also helped to define the epochs though which the artist lived. From Ziggy Stardust to the soul of his mid-'70s work and up through his explorations of pop and new wave, Bowie left no genre of music unturned.
"Mr. Bowie wrote songs, above all, about being an outsider: an alien, a misfit, a sexual adventurer, a faraway astronaut," wrote the New York Times' Jon Pareles. "His music was always a mutable blend: rock, cabaret, jazz and what he called 'plastic soul,' but it was suffused with genuine soul. He also captured the drama and longing of everyday life, enough to give him No. 1 pop hits like 'Let's Dance.'"
In 1970, Bowie was married to Angie Barnett, though the two divorced a decade later. Bowie remarried, to supermodel Iman, in 1992.
Get the five stories that will challenge you to rethink the world by signing up for MicCheck Daily.