This David Bowie GIF Beautifully Combines His Iconic Looks in One Mesmerizing Shot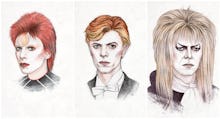 The world woke up on Monday morning and heard the news: David Bowie is dead at 69. Almost immediately, social media rushed for an appropriate image to share. While sentimental GIFs from The Man Who Fell to Earth are a good go-to, as are videos from Bowie's most memorable concerts, it was an animation from 23-year-old U.K. artist Helen Green that struck a chord with Bowie fans. 
Look familiar? The GIF, which is comprised of 29 images of Bowie from his Ziggy Stardust days to Labyrinth all the way to 2014, first got his rabid fanbase's notice last year when Green posted the animation on her Facebook, website and Tumblr on Bowie's birthday, January 8. 
Days later, David Bowie's official Facebook page posted the image and ran an interview with Green about how she created this mesmerizing, downright inspiring GIF. 
"It's become somewhat of a tradition for me to create something to celebrate David Bowie's birthday — a little token of appreciation for someone that has inspired me so much over the years," she stated in the post. "This year I decided to put my inspiration in motion. The result; an animated portrait illustrating Bowie's evolution and reinvention, from the pre-Bowie 1964 to 2014."
According to Green, each of the images were colored digitally and animated in Photoshop. The GIF, which took about 35 hours to produce from start to finish, manages to beautifully display the diversity of Bowie's many looks in a seamless, fluid way. He was a man daring enough to slather on blue eye shadow in 1971. He was a man cool enough to totally pull off an elaborate lightning bolt painted across his face. He even got away with making an eyepatch look chic as hell. Not to mention he was married to model extraordinaire, Iman. 
As far as choosing which looks to recreate, Green said she looked for images of Bowie from entirely different periods of his career, but all facing the same way.
"For many of the drawings, I used a reference from a different year, but facing the correct way," she told Bowie's official Facebook page. "For example, the reference for Ashes to Ashes Bowie was his 1976 mugshot, and a sideways-facing 'Heroes' Bowie for the drawing of Davie Jones. It was quite a triumph to see all 29 drawings in motion for the first time!"
The official Bowie endorsement of her GIF landed her an interview with the Guardian last year, in which she said, "I've grown up with Bowie's music, and many of his albums are my all-time favorites. The way he has collected ideas and characters has always fascinated me." 
Clearly, Green (who Mic has reached out to for comment) is a huge fan just as many of those sharing the GIF today. Just two days ago, she posted a new image of Bowie she was drawing for his 69th birthday. 
Now Green is seeing a new appreciation for her work, which manages to beautifully display Bowie's creativity as an artist in a most creative way. He has inspired countless designers, fashion lovers and beauty trendsetters alike with his fearlessness, and we suspect he will continue to do so for years. 
Luckily, fans can now look to this artful GIF for inspiration, and for a short refresher on how to be one of the coolest people who has ever lived.