Bruno Mars Has Big Plans for His New Album — Here's What We Know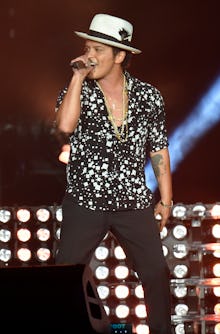 Kevin Mazur/Getty Images
After staying hush-hush for quite some time, Hawaii-born pop star Bruno Mars tweeted on Sunday a long-awaited update about what would be his third and latest album. Saying that he's on a mission, Mars told fans, "I'm obsessed to make an album I'm genuinely proud of." 
Mars has a successful track record with his previous albums. Mars' second and most recent album was the Grammy-winning Unorthodox Jukebox in 2012, which hit over two million sales in February 2014, according to Billboard. His debut album Doo-Wops & Hooligans also broke two million.
Read more:
Since Unorthodox Jukebox, Mars has been busy co-writing and appearing on other hit albums of 2015. Mars and producer Mark Ronson released the song "Uptown Funk" and dominated the Hot 100 charts for 14 straight weeks, according to Forbes. That made it the second longest-running No. 1 song ever. Although Mars sang and co-wrote the song, it is featured on Ronson's album Uptown Special.
Adele's third LP 25, which features the hit track "Hello," also features a song by Mars, called "All I Ask." The two co-wrote the heartfelt song, which sent Twitter into an emotional flurry. 
However, little is known about Mars' third album. In May, a fan asked Mars about the third album, to which he vaguely replied, "Can't say much but just know that this next album will be my third album...huh?" In August, he tweeted about going "back to work."
Fans itching to see Mars can catch him at the 2016 Super Bowl 50 halftime show in February, which will be his second time performing, according to Billboard. The first time was in 2014, and garnered over 115 million viewers, making it the second most popular halftime show right after Katy Perry's in 2015, Billboard reported. 
This year, he's also "curating" the show, so guests like Coldplay and Beyonce will join him onstage, Vox reported.