Rachel Bloom Just Dished Out the Most Delightfully Honest Talk About Red Carpet Fashion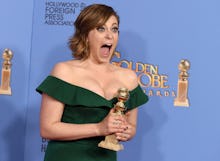 Rachel Bloom's speech at the 2016 Golden Globe Awards made her a solid candidate for Hollywood's sweetheart this awards season. Watching her climb on stage, hoist her trophy and deliver the most endearing acceptance speech (see that here) made it feel like our best friend just happened to win a Globe for best actress in a TV comedy.
But turns out the Crazy Ex-Girlfriend actress would have already won us over if we'd heard her speak before the show. At the British Academy of Film and Television Arts' pre-Globes tea on Saturday afternoon, Bloom opened up to Elle.com about her challenges with getting dressed for Hollywood. 
"Fashion has always been a source of stress for me, because I don't know how to dress myself," Bloom said. "I'm short-torsoed with big boobs, and I don't really understand what a belt does. But you get on these shows and people fit the clothing to you and suddenly you learn, 'Oh, I should be wearing petite jackets!'" 
It's not just deciding what dress to wear, though — what a celebrity wears underneath is just as crucial.
"Here's the thing: I'm wearing a corset and two pairs of Spanx over it under my dress... Because the Spanx cover up the lumps of the corset. That's what busty girls have to do! I basically look like a pirate wench in my undergarments." 
Bloom isn't the first celebrity to admit that she loves Spanx. Kim Kardashian West has also admitted to wearing two pairs sometimes, and smoothing shapewear regularly makes the list of celebrity styling tricks. (Octavia Spencer might be the most hardcore, having admitted to triple-Spanxing.)
Needing to go to those lengths is something more and more stars are getting honest about, from donning Spanx to having to seek out their own dresses. "My dress was designed for me, which was so amazing," Bloom added to Elle.com. "Curvier ladies can't just throw on the runway look. It just isn't made for boobies and butts and stuff like that."
Bryce Dallas Howard echoed that point on the red carpet on Sunday night, in a moment that had female viewers pumping their fists. Explaining to E!'s Giuliana Rancic why she bought her own dress (as opposed to borrowing from a designer via a stylist), Howard said, "I like having lots of options for a size 6, as opposed to maybe one option... I always go to department stores for this kind of stuff."
To which we bet Bloom would have said:
h/t Elle.com