Ex-Maryland Police Officer Gets Five Years in Jail for Pointing Gun at Unarmed Man's Head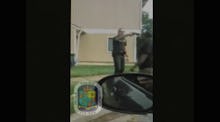 Jenchesky Santiago — the former Prince George's County, Maryland, police officer who was caught in a disturbing cellphone video pointing a gun at an unarmed man's head in May 2014 — was sentenced Friday to five years in jail, according to reports.
The incident preceded the killing of Michael Brown in Ferguson, Missouri, by three months, but became part of the same debate around police violence against black Americans that's sparked protests across the country for the last two years.
The victim, William Cunningham, was being dropped off at his home by his cousin when Santiago pulled up behind them in a patrol car. According to the Washington Post, Santiago told Cunningham and his cousin they were parked illegally — which prosecutors say is not true — and rushed at Cunningham when he left the car and tried to walk into his home.
The interaction that followed found Santiago pointing his gun at Cunningham's head and ordering him back in the car. "Get back in the car," Santiago shouted repeatedly. "Go ahead, I dare you to fucking fight me, son."
Santiago had two passengers at the time — a pair of friends from New Jersey, according to reports — whom he was not allowed to have riding with him. "We think, unfortunately, what happened is that he was showing off for his friends," Prince George's County State's Attorney Angela D. Alsobrooks said.
On Dec. 2, Santiago was found guilty of first- and second-degree assault, two counts of misconduct in the office and use of a handgun in the commission of a crime of violence, USA Today reports. Prince George's County police Chief Mark Magaw called for Santiago to be fired after his conviction, calling the officer's actions "among the worst I've seen as chief of police."
Meanwhile, Cunningham told the Post last month he still thinks about the encounter every day. "I thought I was going to die right there," he said. "I just thought it was over."
h/t USA Today