David Bowie's Death Was Briefly Preempted by This Radio Presenter's Misstatement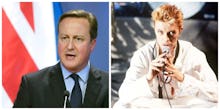 British Prime Minister David Cameron has died. 
That was the case for at least a few seconds, according to radio presenter Fiona Winchester, who reads the news for several major U.K. radio stations.
Winchester was delivering the latest news for Heart FM on Monday morning, when she accidentally announced Cameron had died, instead of music icon David Bowie, who died after an 18-month battle with cancer on Sunday, at the age of 69.
After realizing her mistake, the newsreader hastily corrected herself. 
But the damage had already been done in the realm of social media mockery, and the Twitterati wasted no time "taking the mick" out of Winchester, with a few opportunists seizing the moment to put the U.K's divisive right-wing leader on blast.
David Cameron — who is, last Mic checked, alive and kicking — used social media to lament the loss of such a titan, describing Bowie's music as the "soundtrack to our lives."
Bowie released his final album, Blackstar, on Friday, just two days before his death. The seven-track album was described as a "parting gift" by Bowie's producer and close friend Tony Visconti, according to the BBC.
The album is surging to the top, according to Official Charts, and is expected to hit No. 1 this week, in the wake of his death.
Farewell, David... Bowie, that is. 
Hear the radio segment in question below:
Correction: Jan. 11, 2016