Marco Rubio 2016: Latest Polls, News and Updates on Presidential Candidate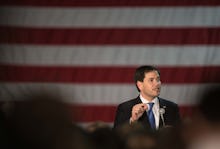 Ben McKeown/AP
Florida Sen. and Republican presidential hopeful Marco Rubio has risen and fallen in the polls in recent months, falling from second in the polls to third, where the candidate now stands. 
In October, Rubio enjoyed a noticeable stint in the limelight when, during the third republican debate on Oct. 28, many believed the candidate emerged as the event's clearest victor. Since then, Texas Sen. Ted Cruz has moved ahead of the Florida Senator in the polls, according to the most recent numbers from Real Clear Politics.
Read more:
With the new year comes the start of an election year, and the race for the White House is as competitive as they come. The poll numbers have shifted numerous times in the lead up to the Nov. 8 election, and will likely continue to do so in the upcoming months. Though business tycoon Donald Trump is leading the pool of GOP presidential candidates by a landslide, his challengers continue to trade places for the position of second-place lead. 
Still in the running on the Republican side of the presidential race, in addition to Trump and Rubio, are former neurosurgeon Ben Carson, Former Florida Gov. Jeb Bush, New Jersey Gov. Chris Christie, former Hewlett-Packard CEO Carly Fiorina, former Virginia Gov. Jim Gilmore, former Arkansas Gov. Mike Huckabee, Ohio Gov. John Kasich, Kentucky Sen. Rand Paul and former Pennsylvania Sen. Rick Santorum. 
According to a Friday poll from Fox News, Trump is polling at 35% of voters' favor, trailed by Cruz at 20%. Rubio's third in the polls, at 13%, ahead of Carson, who is polling at 10%. According to Fox's numbers, no other candidate is polling above 4%. Likewise, a new poll from IBD/TIPP also suggests Trump is leading in the polls. According to Investor's Business Daily, that poll puts Trump in the lead with 34% of voters' favor, Cruz at 18% and Rubio at 9%. 
A CNN/ORC International poll published Dec. 23 confirm that the poll numbers are shifting, though not drastically. CNN/ORC International's data puts Trump in the lead by 39%, followed by Cruz at 18% and Carson and Rubio tied for third at 10%. 
Yet it could be that Rubio's got an upper hand on the pool of Republican presidential hopefuls. According to NBC News, in breaking down voters' support by gender, Rubio is the only candidate who has more female supporters than male, though Trump maintains a higher percentage of female voters' favor overall. According to the data, 39% of total Republican voters who support Trump are men and 29% are women, however 13% of republican voters who support Rubio's are men and 14% are women. 21% of the republican voters who support Cruz, the number two candidate, are men and 13% are women.
In an effort to appeal to conservative voters, Rubio has put issues relating to families, farmers, gun owners, small business owners, workers, seniors and veterans at the core of his campaign. 
Gun control takes center stage: One issue that's been thrust into the public's collective conscience in recent days is the issue of gun control in America, following proposed executive measures from Obama on Tuesday. Rubio's stance on the second amendment makes plain that the candidate would handle gun legislation conservatively. 
"Ive always believed that the Second Amendment is about much more than the right to bear arms," reads Rubio's statement on gun control, via his campaign page. "At its core, the Second Amendment is about the American Dream."
The candidate's position continues: "We need to start examining why it is people are taking violent action, not what they're using to commit the violent act. We have two issues in this country: One is mental illness, which we need to begin to address more seriously, as opposed to stigmatizing [it or] in some cases trying to put it aside. That's a societal thing we need to confront as a society and a country. ... The guns are what they're using to commit the violence. In many cases, the laws that are actually being proposed would not have prevented them."
"Dissenters try and stigmatize gun owners, but as we all know, responsibly exercising one's Second Amendment right could mean the difference between life and death."
This week, Rubio will head to the nation's capital to attend the final State of the Union address from sitting commander in chief, President Barack Obama. 
"The next few weeks will be a test for the young senator as he tries to give his campaign a push," according to Jeremy W. Peters of the New York Times. "Will he make more of a pivot toward an appeal that resonates with conservative voters, as his speeches in the last week have?"
Despite what the numbers say now, Rubio is confident he'll pull ahead in the polls in time for election day.