9 Albums to Look Forward to in 2016 for Those Itching for New Music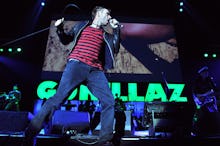 Mark Allan/AP
Put simply, 2015 was a good year for music. Kendrick Lamar returned with his third album, To Pimp a Butterfly, which had several music sites deem it the best album of the year. Adele made up for lost time with 25, and is still No. 1 on the Billboard 200 after seven weeks — the first woman to do so in nearly three decades since Whitney Houston's self-titled album, Whitney, in 1987. 
This year is poised to be an equally exciting year for several music genres, with the likes of Missy Elliott and Gorillaz set to make welcome returns. 
Sia, This Is Acting
Sia has already dropped new music this year, but she'll also wrap up January with her seventh album, This Is Acting, on Jan. 29. Though a new Sia album is exciting in its own right, This Is Acting will feature songs initially written for Adele's 25 and Rihanna's upcoming album, Anti, according to Rolling Stone. The recently released "Reaper" was also produced by Kanye West, further adding to her musical versatility. 
Elton John, Wonderful Crazy Night
Though he already has enough music for several lifetimes, Elton John's 33rd studio album, Wonderful Crazy Night, will be available on Feb. 5. What's even more impressive is that he said he took less than three weeks to produce the album, cranking the songs out in the span of 17 days. 
"The new album is all one or two takes, and that's it," John told the Sunday Times, according to uDiscover. "We did a song a day, wrote a song, finished it, did the backing vocals and then went onto the next track. So in 17 days we did 14 songs, 10 of which ended up on the album."
Kanye West, Swish 
He's already been active this year, but Kanye West is also slated to release his highly anticipated new album, Swish, on Feb. 11 after a series of tweets on Friday. According to Rolling Stone, West will follow a similar model to his 2010 release of My Beautiful Dark Twisted Fantasy, as he plans to release a new song every Friday — what he called G.O.O.D. Fridays — up until the release of the new album. We're not complaining. 
Source: Soundcloud
Animal Collective, Painting With 
Animal Collective has been very quiet since its ninth album's release in 2012, Centipede Hz, but is making a welcome return next month. Painting With — which will arrive on Feb. 19 — has mostly been kept under wraps, though the group released the first single from the new album, "FloriDada," in November. 
Drake, Views From the 6
Much to the dismay of fans, the actual release date for Drake's forthcoming album, Views From the 6, is still up in the air. However, it should be "coming very soon," according to Hot New Hip Hop. In the meantime, fans can continue to decipher cryptic teasers posted online. 
That can only mean one thing. 
Rihanna, Anti 
Though it was expected to be released in 2015, Rihanna didn't live up to her promise, and fans will have to wait until sometime this year for her eighth album, Anti. To her credit, she's at least been creative in her stalling tactics, most recently releasing an interactive video journey on a website called AntiDiary. It shouldn't be too long, however, as she's expected to go on an Anti tour in February, which would admittedly be quite hard without the album's release beforehand. 
Missy Elliott
It's been over 10 years since The Cookbook, but we've never been closer to a seventh Missy Elliott album. It began with a surprise appearance at Super Bowl 49 with Katy Perry in February 2015, and followed up with the release of her newest single, "WTF (Where They From)," in November. Though there isn't a release date, an album name or a formal announcement, Elliott's interview with Billboard earnestly reminded us: "There is only one Missy." 
M83 
It's been a long five years since M83's last album, Hurry Up, We're Dreaming, but all signs point to a new album from M83 in 2016. While there isn't a release date set, producer Justin Meldal-Johnsen — who worked with M83 on Hurry Up — tweeted that it's "finished." Additionally, Anthony Gonzalez talked about the upcoming album in an interview with Entertainment Weekly, describing it as "very epic" and adding that it's "quite different from the previous albums which is what I'm the most proud of."
Gorillaz 
After the group's fourth album, The Fall, came out in 2011, lead instrumentalist Damon Albarn revealed the following year that the band had a falling out, leaving future collaborations unlikely. Thankfully, Albarn and Co. have since changed their tune, and all signs point to a new Gorillaz album in 2016. In an October 2015 interview with Rolling Stone, Albarn said he was in the "very early days" on a new Gorillaz track. 
"So far [the song is] really fast, and it's got quite a lot of energy," Albarn said. 
Correction: Feb. 1, 2016