David Bowie Proved That Style Has No Gender — Over 40 Years Ago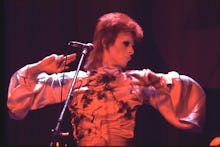 On Monday morning in London, a fashion show kicked off with men walking down a runway in silver boots, rainbow pants and glitter eyeshadow. Some of them wore metallic trenches, while others walked shirtless, chests exposed and draped in fur.
Xander Zhou's London Men's Fashion Week show was over-the-top. It was fabulous. It was a show David Bowie, who died on Sunday at age 69, would have loved. 
It seems like that was Zhou's every intention.
Bowie has long been an inspiration to the fashion world — even when the fashion world doesn't know it. Today's style world is fixated on all things "gender-bending," fluid and androgynous. But years before Hood by Air's Shayne Oliver told W magazine, "Design-wise, I don't have any boundaries when it comes to gender," Bowie crooned with sculpted cheeks and rouged lips. Years before Jaden Smith flaunted a skirt in Louis Vuitton ads or Swedish brand Acne put an 11-year-old boy in a pink coat and heels, Bowie was rocking out onstage in strappy platforms.
Around 45 years ago, the world was breaking out from its Mad Men era of stiff brown suits and penny loafers and were getting comfortable with flared pants, prints and polyester. But Bowie already knew that fashion knows no gender. 
If he wanted to wear blue eyeshadow onstage while still being a sex symbol, he would. If he wanted to wear flouncy blouses while strumming a guitar, he would. While men of the early 1970s threw on polyester suits in black, brown or navy, Bowie stepped on stage wearing a cape (a cape!) as Ziggy Stardust. 
His look was one of androgyny, but not in the cliched way we know it today, with female models and celebrities in stereotypical black suits and white button-downs. His androgyny was true to the word: a blend of styles that made no distinction between masculine or feminine, and often looked like neither. 
"1961 was when I was really into clothes," Bowie told Interview in 1990, explaining his inspiration for blurring those lines:
1961 was when I was really into clothes. I left school at 15 and started copying a bloke who used to go up on the train to London with me; Leslie, I think his name was. He was like, top mod of his own area. He wore Italian jackets with white linen jeans. Boy, was that cool! ... Chelsea boots, but with fluorescent pink or green socks and eye shadow that matched the socks he was wearing that day. And he had a slight bouffant hairstyle, parted in the middle. He was somehow tough-looking, too, a real heavyweight. But he had eye makeup on! And the jarringness of it was really weird. I thought, I like that — I feel that, not one thing or the other. 
During Bowie's glam rock phase, he was frequently seen donning thick eyeliner and glossy lips, and paired them with rouged cheeks while wearing sparkly numbers along with silk and velvet blouses. He wore earrings and slimmed suits, and he bleached his eyebrows in the name of glamour. As Dazed put it, glam rock — and Bowie — took "a 'who cares?' attitude towards men as 'men.'"
Just take a look at his look during a televised concert special in 1973:
At that point, who on Earth was going to tell him that tight pants and platforms were typically associated with femininity? (As if he would really care.) Who watched the Labyrinth, in which Bowie appears wearing a fantastic display of eyeshadow, as a child and didn't think, "Oh hell YES." 
He was just having so much fun. 
Because of that, he was an androgynous hero to many. 
On Monday morning, there was an outpouring of support on Twitter for Bowie's legacy of brushing away gender norms. 
The Zhou show is just one of the most recent instances of fashion paying its respects to such an iconic figure. His influence has been felt by the likes of Balmain, which still loves a good metallic jumpsuit,  Alexander McQueen, who adored a relaxed and elegant two-piece and Jean Paul Gaultier, whose elaborate jumpsuits screamed "Bowie!," among many others. 
There was even an exhibition of most legendary looks at the Victoria and Albert Museum in London, and top model Kate Moss has evoked Bowie's look at least twice for Vogue covers. 
Now, today, androgyny and clothing that eschews gender norms are making headlines. People flipped over Kanye's leather skirt. Jaden Smith recently made waves as the new face of Louis Vuitton's womenswear. Today, male beauty vloggers are nothing out of the ordinary. Even MAC rounded up a collection of makeup specifically aimed at men.
But as these events are praised as major progress in our 21st-century style universe, Bowie was showing people how cool and OK it was to ditch gendered style traditions since forever.
Chanel designer Karl Lagerfeld told the Associated Press on Monday that Bowie "was a great artist and a timeless fashion icon ... who will remain a reference." But he's more than a reference. He was a herald of major androgynous, gender-obliterating fashion to come.