Here's How David Bowie Influenced Queer Culture and Helped Us Be OK With Who We Are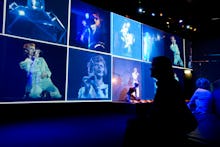 The world woke up to a terrible bit of news today. After an 18-month battle with cancer, David Bowie died at the age of 69. The singer and actor's influence on the music world and beyond is far-reaching, but there's also a group to whom Bowie's music, presence, style and vision were beyond influential: the LGBTQ community. 
People from all over the LGBTQ spectrum used social media to express how Bowie helped them feel comfortable in childhood, a time when being queer can feel difficult and alienating.
Earlier this morning, Out republished a series of essays in which LGBTQ celebrities spoke about Bowie's influence on their artistry and their personhood. Like many of the people speaking out on social media, these artists felt his influence since youth. 
Jake Shears, lead singer of the Scissor Sisters, wrote about his obsession with Bowie since the age of 8, when he saw Bowie's film Labyrinth. 
"My first and only favorite rock star," Shears wrote in Out. "Growing up, no matter what I was doing — whether it was theater, tap dancing or writing horror stories — it always seemed like he was there to guide my way." That Bowie influenced the Scissor Sisters, one of the most visible queer bands in pop culture, means that millions of LGBTQ music fans continue to hear his influence. 
Shears is not the only queer musician to thank Bowie. Neo-glam rocker Adam Lambert, also a lover of Bowie since age 8, wrote, "A light bulb went off — I wasn't into drag, I didn't want to dress like a woman, but I wanted to express my gender and artistic identity differently than the mainstream. Bowie was a key inspiration."
Also, one of the most famous pieces of theatre with a queer theme, Hedwig and the Angry Inch, is clearly influenced by Bowie's style and music. Hedwig's creator, John Cameron Mitchell, wrote in his own Out essay that Bowie "loves to freak people out, which I can relate to — there's a protective thing about looking freaky. That's certainly what Hedwig was for me. A mask becomes a safe place behind which you can create amazing art, and that's what drag is."
Even if Bowie is not on your iTunes or Spotify playlists, his influence is there and has impacted queer culture for generations. In turn, music from Scissor Sisters, Adam Lambert and theatrical performances like Hedwig and the Angry Inch have helped us embrace our queerness a little bit more.
Ben Hopkins, lead vocalist and guitarist for queer punk band PWR BTTM, tweeted a long remembrance of Bowie early Monday morning after news of his death hit. The singer's Twitter combines Bowie's influence on music and his influence on people together in one artistic, powerful thread. 
Rest in peace, David Bowie.