The NHL's First Gay Couple On Kiss Cam Will Give You All The Feels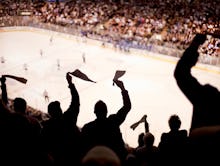 Los Angeles hockey fans were treated to a delightful dude-on-dude kiss last Friday when the kiss cam at the Staples Center zoomed in on a gay couple.
Brad Parr and Andy Evans told Outsports that they were secretly hoping to wind up on the big screen that night when the Los Angeles Kings played the Toronto Maple Leafs, and they soon enough got their wish. The lovebirds didn't hesitate to seize the moment and went for it with a wet n' wild smooch, a moment that was reportedly the first same-sex kiss cam in NHL history.
And judging from the enthusiastic cheers that could be heard in the video capturing the heartwarming moment, the crowd was totally there for it.
This isn't the first time that a same-sex couple has been featured on a kiss cam at a sporting event. Last May, for instance, a gay couple was featured on a kiss cam at Dodger Stadium, also in Los Angeles. There are also reports that a gay couple was featured on a kiss cam during a San Francisco Giants game in 2011.  
But according to journalist Greg Hogben, this was the first same-sex kiss on a kiss cam in NHL history, which is a big deal for a few reasons. Sporting events are notoriously heteronormative and hypermasculine environments, so injecting some same-sex PDA into the equation is inherently subversive. The NHL in particular has been criticized for its homophobia in the past, as on-the-ice verbal sparring can quickly lead to players exchanging anti-gay slurs. 
Furthermore, kiss cams have been known for being all kinds of problematic. Same-sex pairings featured on kiss cams are typically just a couple of friends being picked on by whoever it is who operates the camera, usually as a "joke" based on the assumption that gay sports fans apparently just don't exist. Back in 2012, MLB pitcher Brandon McCarthy expressed his annoyance at the trend by tweeting, "They put two guys on the 'Kiss Cam' tonight. What hilarity!! (by hilarity I mean offensive homophobia). Enough with this stupid trend."
Meanwhile, for years the New York Mets had a longstanding tradition in which their kiss cam would nefariously zoom in on two players from the opposite team, as if to say, "LOL HOMOS." (The organization finally put an end to the gag just last September, but how the hell did it take that long, even?)
Hopefully with enough genuine kisses like the one between Parr and Evans, things will only keep getting better for the visibility and comfort of gay sports fans.
Watch the full video of the kiss cam footage below, and hop over to Parr's and Evans' fundraising page for the Leukemia & Lymphona Society, where they are raising funds to help combat blood cancer.
h/t Outsports