Remember David Bowie's Incredible Voice with This A Cappella Version of "Under Pressure"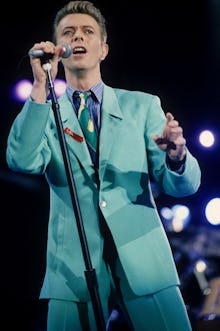 Music lost one of its most compelling voices and songwriters, David Bowie. The 69-year-old died Sunday from cancer, the musician's social media accounts confirmed Monday. Fellow musicians and fans have been sharing their favorite Bowie moments all morning, from stories to GIFs showing Bowie's many transformations. 
One such artifact that's been making the rounds on Tumblr is an isolated vocal take from Bowie's 1981 collaboration with Queen, "Under Pressure." The recording strips away all the chipper instrumental, which would later make up the beat to Vanilla Ice's "Ice Ice Baby," to just leave Bowie and Freddie Mercury's impressive harmonies and Bowie's lyrics. According to Queen, those lyrics were what made the song a hit, despite its difficult recording process.
"It was hard, because you had four very precocious boys and David, who was precocious enough for all of us," Queen guitarist Brian May told Mojo in 2008. "David took over the song lyrically. Looking back, it's a great song but it should have been mixed differently. Freddie and David had a fierce battle over that.
"It's a significant song because of David and its lyrical content."
Listen below and cherish the talents of the most restlessly creative force of nature pop has ever seen.
For comparison, listen to the two vocals sitting pretty within the full song's catchy riff and mighty breakdown.