David Bowie's Death: Fans Go to Twitter to Wish Major Tom "Safe Travels"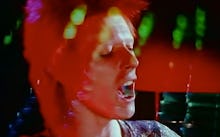 YouTube
"I'm stepping through the door/ and I'm floating in a most peculiar way/ and the stars look very different today." These are the lyrics of the hit song "Space Oddity" from legendary musician David Bowie, who died from cancer at the age of 69 on Sunday. Bowie left a powerful impact on the entertainment industry, with fans still remembering the character born from that song.
Released in 1969, which was the same year as the first moon landing, "Space Oddity" is a dreamy but sad chronicle of a fictional astronaut named Major Tom, who is alone exploring the vast outer space. Some believe it's more about the grand and psychedelic effect from drugs than literal space. 
Read more:
Regardless, the pop song topped the charts, ranking No. 1 in the U.K. and breaking the Top 20 in the United States, according to Vox. In 1970, Bowie performed the experimental song at the Ivor Novello Awards and earned a Special Merit Award for Originality for it. 
Bowie would continue to reference Major Tom in other songs, such as 1980's "Ashes to Ashes" and 2016's "Blackstar," which might actually depict the death of Major Tom in its music video, according to Noisey. 
Major Tom might not, but the song still lives on today. In 2013, astronaut Chris Hadfield posted a video of himself covering Bowie's song, appropriately from space at the International Space Station. As of Monday morning, it had over 27 million views on YouTube. Lana Del Rey has a song on her fourth LP Honeymoon called "Terrence Loves You," which has lyrics referencing good ol' Major Tom, Rolling Stone reported.
Fans took to Twitter to appreciate and remember the legendary character created by Bowie, even comparing the genre-blurring musician to the adventuring astronaut. Many included the somber lyrics, wishing Bowie "safe travels" and calling "ground control to Major Tom."
Below are a few tweets that use the song to commemorate Bowie:
Even British astronaut Tim Peake, who is currently in space, tweeted out to Bowie.
Below is the music video released for "Space Oddity":