Women of Menstruating Age May Finally Be Allowed Entry to Hindu Holy Site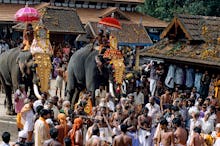 India's Supreme Court has called into question the ban on women entering the Sabarimala temple, a Hindu pilgrimage destination in the southern India state of Kerala. The temple attracts millions of visitors every year. And not among those millions are women of menstruating age — they are banned, the Press Trust of India reported.
On Monday, Supreme Court of India Justices Dipak Misra and N.V. Ramana said there is no constitutional basis for this discriminatory policy that has spanned centuries. "The temple cannot prohibit entry [of women], except on the basis of religion," they said, according to PTI. "Unless you have a constitutional right, you cannot prohibit entry." The issue will be further examined on Feb. 8.
K.K. Venugopal, appearing on Kerala's behalf, argued that menstruating women threaten the sanctity of the temple and the pilgrimage, PTI reported, invoking the traditional Hindu doctrine that declares women impure during their cycles and therefore unfit to participate in religious activities.
After the court made its announcement, Twitter came down hard on the "preserving tradition" excuse.
The exclusion of women from Sabarimala doesn't just raise questions of misogyny, but hits specifically on period shame. Women everywhere encounter it, but the menstrual taboo is especially rampant in places like India, where it's written into the religious tenets that inform social norms. And the "impure" are striking back: In November, a group of Indian women started the #HappyToBleed hashtag when religious leader Prayar Gopalakrishnan made comments in support of forbidding menstruating women from entering the Sabarimala temple. 
Now, because it's still lost on some, women — and some men — are again pointing to the irony of punishing women for a natural, life-giving process.
But while many hope for a Supreme Court ruling in favor of equality, others wonder if focusing too acutely on the Sabarimala temple is to overlook larger issues of gender discrimination in India. 
Gopalakrishnan said he would allow women to enter the temple when someone invented a machine that could detect if a woman was menstruating, the BBC reported. "These days there are machines that can scan bodies and check for weapons," he said. "There will be a day when a machine is invented to scan if it is the 'right time' for a woman to enter the temple. When that machine is invented, we will talk about letting women inside."
As likely as it is that someone will invent a period detector, a Supreme Court ruling might beat them to it.