Hugh Hefner Will Live With Whoever Buys the 'Playboy' Mansion and Twitter Users Can't Even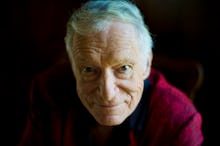 Kristian Dowling/AP
Looking for a roommate? Got $200 million? If so, Hugh Hefner will sell you the Playboy mansion and be your roommate. The Playboy editor-in-chief's famous mansion is being sold for a whopping $200 million under the condition that the 89-year-old gets to stay until he dies — and the Twittersphere can't get over the idea of a buyer becoming roommates with Hefner himself. 
Some people said they were psyched about the opportunity and said it would be there first purchase should they win the $1.4 billion Powerball, while others said they would be skeptical about living with an "old pervy white man." Others joked about how, with the house's reputation for lavish parties, many of which involved lots of nudity, it would certainly need a deep cleaning. 
Living with Hefner in the Playboy mansion is begging for its own sitcom or reality show, said one Twitter user. 
Hefner said he'll stay there until he dies, which may not be long, others joked. 
Prime Craiglist listing:
If @SoulBrother_89 purchases the mansion, Hefner's "old ass the first to go."
@ThuggaKay_ will get to the bottom of this.
Others said they were v down to live with Hefner in the mansion.
Brilliantly ironic:
But how much cleaning would it take to undo decades of Playboy mansion sexcapades?
Last year, Playboy announced that it would no longer feature nudity in its magazines because it's passé, Playboy chief executive Scott Flanders told the New York Times in an October article. "You're now one click away from every sex act imaginable for free," he told the Times. "And so it's just passé at this juncture." Model Kristy Garett will be the magazine's last nude centerfold model in its February issue.
Here's a look inside the 20,000 square-foot mansion.