Brian Eno Shares the Heartwrenching Story of His Final Correspondence With David Bowie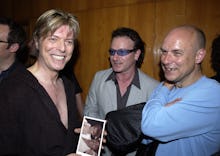 Just two days after releasing Blackstar, his 25th album, on his 69th birthday, one of pop's most cunning shape-shifters died. David Bowie's death after an 18-month battle with cancer was confirmed in a Facebook statement Monday. 
Bowie's friends, fans and musics collaborators have been sharing their favorite memories of the artist who claimed in 1972 he would never be "content to be a rock 'n' roll star all my life." No one's story of the Starman has been resonating as poignantly as a statement issued by famed electronic innovator and regular Bowie collaborator Brian Eno. 
Eno, who worked with Bowie on his famed Berlin trilogy of Low, Heroes and Lodger, as well as the 1995 album Outside, wrote a statement shared by the BBC describing his last contact with Bowie, which took place "seven days ago."
"We knew each other for over 40 years, in a friendship that was always tinged by echoes of [British comic duo] Pete and Dud," Eno wrote, explaining that email had been their most recent form of communication. "Over the last few years — with him living in New York and me in London — our connection was by email. We signed off with invented names: some of his were Mr. Showbiz, Milton Keynes, Rhoda Borrocks and the Duke of Ear."
Eno shared that he and Bowie were discussing going back into the studio to work on a follow-up to Outside, the pair's minimalist electronic album. They created that album mostly through improvisation, hitting the studio with "not even a gnat of an idea," as Bowie told USA Today in 1995, according to Ultimate Classic Rock. 
"We realized we were both interested in nibbling at the periphery of the mainstream rather than jumping in," he said. "We sent each other long manifestos about what was missing in music and what we should be doing." Eno helped motivate the group of musicians they gathered by coming up with absurd character sketches as inspiration, Bowie told MTV, like: "You are a disgruntled ex-member of a South African rock band. Play the notes they won't allow." 
The duo had been talking about doing a follow-up with even more characters, as Bowie has said before and Eno noted in his statement, until Bowie's illness severed that possible future.
"I received an email from him seven days ago," Eno wrote. "It was as funny as always, and as surreal, looping through word games and allusions and all the usual stuff we did. It ended with this sentence, 'Thank you for our good times, Brian. They will never rot.' And it was signed 'Dawn.' I realize now he was saying goodbye."
Listen to Eno and Bowie's deep cut album Outside below.