Diesel Is Advertising on Pornhub, Because Let's Face It, That's Where People Are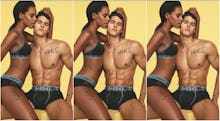 Saying you watch porn for the fashion ads may sound like the new "I read Playboy for the articles."
But checking out a new pair of designer pants of shoes on a porn website is about to become a reality. Diesel announced this week that it will begin displaying its new ad campaign on the popular porn site Pornhub, along with YouPorn (which are operated by the same company). It will also be running the campaign on Tinder and Grindr, joining fashion brands like J.W. Anderson who are doing the same.
"Our worlds, online and offline, are completely merged and I always want to reflect the world we live in, that's how I approach Diesel," Diesel's artistic director Nicola Formichetti told i-D. "We're a global brand and we need to talk to so many people, so we need to have that clear message but it should never just be about selling products."
That message is about being your honest, true self, which isn't a super revolutionary idea for fashion. But Diesel is spreading that word by also being honest about where people are online — and people are watching porn.
Of course, people have always been watching porn online (and before that, on videos, and before that in magazines and books). But the mainstream acceptance of that reality is more recent, as people have gotten more open and honest about their porn-viewing habits. 
That's also meant more openness about women and porn — namely acknowledgment that women watch it, and that women don't necessarily like the porn men have long thought they do. Pornhub's year-end insights found that in 2015, 24% of its site visitors were female, up from 23% in 2014. It also revealed that its most popular search term in 2015 was "lesbian," the winner since it's searched so much by men but also women. 
Between Amy Schumer mocking it and feminists making the case for it, porn feels more mainstream than ever, which can only lend more credibility (er, any?) to big porn sites like PornHub and YouPorn.
Because if anything, Diesel's ads are first and foremost about digital culture — which includes porn, as well as dating apps as well as emoji-filled platforms like Snapchat and Instagram. A video debuted on Dazed showing the new Diesel clothes and accessories modeled by hyper-connected, swipe-happy, emoji-covered models who might as well have shot the ads themselves as selfies.
It's a little trippy and perhaps disturbing to see our own internet habits displayed so unapologetically. But hey, that's the point.
"What we see in advertisements is just selling fake dreams, fake things, this impossible beauty. I think we have to be honest," Formichetti told Dazed. "Yeah, this is an ad, we're selling shoes. But it's in an interesting way, and people smile."