This North Carolina Ultrasound Provision Is the Latest State-Level Abortion-Access Attack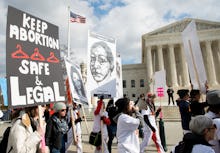 More than 50 new state-level abortion restrictions became law in 2015, according to the Guttmacher Institute, and it seems 2016 will only see more of the same. North Carolina is one of the first states this year to make abortion access increasingly difficult for its female residents: As of Jan. 1, all abortion providers in the state are required to send the state's Department of Health and Human Services their records for abortions or induced miscarriages performed after the 16th week of pregnancy, the News and Observer reported in December. 
The law is presumably meant to prove abortion providers are complying with state law and are not illegally performing abortions after the 20th week of an individual's pregnancy — and therefore requires that providers disclose the method and measurements used to determine and verify the "probable gestational age" of the fetus in question, as well as provide proof in the form of an ultrasound image, the New York Times reported Sunday. The law also extends the mandated waiting period for obtaining an abortion from 24 to 72 hours, making it the longest in the nation, according to the same report.
Supporters argue the law will not detrimentally impact patients or abortion providers in that state's records will not be made public and the identities of those involved will remain anonymous, according to the News and Observer. But opponents argue the law still puts North Carolina women at a disadvantage by making abortion even harder to access — a difficult pursuit given that 90% of North Carolina counties have no abortion providers, according to NARAL Pro-Choice North Carolina.
"The true intent of the law is clear: to shame women and intimidate the doctors that care for them," Melissa Reed, director of Planned Parenthood Votes! South Atlantic, said, according to the News and Observer, adding that requiring the disclosure of information normally considered a private part of an individual's personal medical file is "completely inappropriate." Mini Timmaraju, Democratic presidential hopeful Hillary Clinton's director of women's outreach, agreed, calling the disclosure of such personal medical information "shameful," the New York Times reported.
This law is part of a wave of legislation popping up across the country that is designed to obstruct access to abortion. States have seen several abortion bans in recent years, and many other states have already implemented ultrasound provisions specifically.
Others have proposed plenty of other creative legal measures to complicate abortion access. In December, for example, legislators from Ohio introduced a bill that would require individuals to fill out a form provided by the Ohio Department of Health indicating whether they would prefer to cremate or bury their aborted fetus. Previously passed laws in a number of states have required women to view an ultrasound of their fetus before being allowed to go forward with an abortion, apparently in the hopes that doing so will dissuade them — although one study found 98.4% of women who saw their ultrasound at a provider in Los Angeles underwent the procedure anyway.
Ultimately, abortion is a still-legal procedure that the vast majority of women do not regret undergoing. As state-level attacks continue, however, abortion rates may decrease purely due to lack of access. But the need for the procedure will not dissipate, and women will seek often-dangerous alternatives like self-induced abortion — a reality already manifesting in states like Texas. The sooner state legislators realize this, the sooner they will actually benefit the female citizens they purportedly exist to serve.
h/t New York Times