Most Women in Tech Say They've Been Sexually Harassed; Many Others Are Likely Silent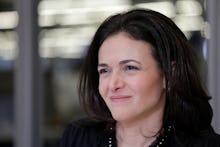 A new survey called "Elephant in the Valley" is shedding light on what it's like to be a woman working in Silicon Valley, and spoiler alert: It's full of biases, harassment and gendered character judgments. 
The discouraging results come from an anonymized sampling of 220 women, most of whom have been working in the tech industry for over 10 years. According to the study, three-fourths or more of respondents are over 40, have children and are at or above the level of vice president, respectively. They came from small startups and corporations alike, including Apple and Google.
Here are some of the results:
The study's authors include Trae Vassallo, a former partner at famed venture capital firm Kleiner, Perkins, Caufield and Byers; Michele Madansky, a marketing research consultant; and Hillary Mickell, co-founder and chief marketing officer of recipe-sharing startup Foodily.
"The elephant is that women face a lot of conscious and unconscious bias in the workplace, and we wanted to get the data on the experiences that women face out in the public for conversation," Vassallo told Re/code's Kara Swisher. 
Vassallo herself was recently subpoenaed to testify in Ellen Pao's sexual discrimination lawsuit against Kleiner, Perkins, Caufield and Byers, where Pao had been a junior partner. Vassallo described her own experiences with sexual harassment, and noted that the Pao trial was a catalyst for the "Elephant in the Valley" survey.
"The surprising thing for me was that in talking about it, I had an overwhelming number of women come back to me and say, 'Thanks for talking about it. By the way, here's what I lived through,'" Vassallo told Swisher.
The findings paint a disheartening picture of a supposedly forward-thinking industry. A full 60% of women surveyed reported "unwanted sexual advances," two-thirds of which came from a superior. Thirty-nine percent of those who were harassed did nothing because they feared blowback; 60% of those who did file reports said they were "dissatisfied" with how things turned out.
"This isn't asking your coworker on a date," Vassallo told Re/code. "These are power play situations, where you're turning someone down in a sexual way, and there's some sort of meaningful impact on your ability to do your job." 
"It isn't just colleagues not behaving well," she added. "These are bosses, people in superior situations, doing this to women they're supposed to be helping mentor."
A full 60% of women surveyed reported "unwanted sexual advances."
Besides sexual harassment, the survey also quizzed participants on their experiences with feedback and promotions, inclusion, unconscious biases (male colleagues who wouldn't make eye contact, or who only spoke to a woman's husband at a cocktail party) and family life.
According to the survey, 84% of the women reported being told they were too "aggressive," 75% were asked about family life during interviews and 66% reported feeling left out of social and networking events due to their gender.
The results are unsurprising given the sheer volume of anecdotal evidence of gender bias in the tech industry. 
To that end, Vassallo and the other co-authors also included a number of personal stories from the women they surveyed, including one woman who had "been followed by aggressive [event] attendees to [her] car on several occasions" and one who was asked during fundraising meetings, "How do we know you're not going to run off and have a baby?" 
Yet Vallasso and Madansky were quick to emphasize that while anecdotes can be helpful in putting a real, human stamp on the face of systemic problems, it is also important to pin some cold, hard numbers up on the board.
"To say, 'Hey, 60% of senior women in Silicon Valley have felt that they have been sexually harassed in their career,' is pretty meaningful," Madansky told Re/code.
For a place that prides itself on disruption, innovation and creative solutions to thorny problems, Silicon Valley can't seem to grasp that some of its biggest challenges have nothing to do with products, but rather concern the people dreaming them up. 
When both tech titans and regular cogs alike — the ranks of which are dominated, of course, by men — are hoisted up and told they can do no wrong, the kind of behavior this survey details should come as no surprise. 
The rest of the world seems to recognize that things are bad. It's about time for Silicon Valley to do the same.