The Internet Is Furious at Jennifer Lawrence for Phone-Shaming a Texting Reporter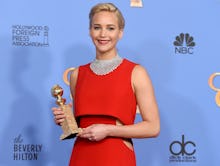 Actress and viral fave Jennifer Lawrence is a quirky human who says spicy things and embraces awkwardness, and the internet generally loves her for it. But at the Golden Globes on Sunday night, J. Law found herself in the uncomfortable (and somewhat surprising!) position of facing the internet's wrath after she called out a reporter for being on his phone during a press conference.
"You can't live your whole life behind your phone, bro," Lawrence told the journalist after catching him on his phone. "You gotta live in the now."
When the reporter asked about the upcoming Oscars, Lawrence swiftly cut him off. "We're at the Golden Globes. If you put your phone down, you'd know that," she chided. 
See below for receipts:
J. Law seemed to be attempting to express her opposition to phubbing, a silly li'l term that describes talking to someone without bothering to look up from your phone because it's so much more interesting. 
Or maybe on a broader scale, she was trying to make a point about the value of living in the moment rather than living in the screen of an Apple device. Perhaps she's been phubbed repeatedly over the past few months and let her frustrations bottle up inside until the pressure became so unbearable that it exploded all over the next poor fella who dared send an email during an awards show press conference.
But even though Lawrence might have intended to make a valid point about cell phone etiquette, she made a bit of a blunder in choosing her target. Folks 'round the internet have been very clear in their belief that her comments Sunday night were rude and/or ignorant, largely due to the the reporter's apparent lack of fluency in English.
Generalized J. Law fatigue (some might even say backlash) may or not be playing a role as well. 
One man who alleges to have been present (in both a physical and not-looking-at-his-phone sense, we presume) tweeted that the online shitshow over Lawrence's comments has been blown out of proportion. Contrary to the internet's belief that the reporter said the journalist was reading questions off of his phone, Chris Trondsen said he was likely filming or taking pictures, and that the exchange between Lawrence and him was lighthearted and chill. 
Assuming that's true, the backlash directed at Lawrence for "shaming" the phubbing reporter seems somewhat disingenuous — especially because we've previously applauded celebrities for calling out texters. In July, for instance, the internet praised actress Patti LuPone for snatching a woman's cell phone during a performance, reportedly because she'd been texting throughout the show.
But part of the visceral angry response toward Lawrence might stem from the fact that many of us are similarly guilty of phubbing ourselves. In a recent survey on the topic, over 46% of respondents said that they had been phubbed by their partners at some point or another, and a separate survey examined the effects of bosses phubbing employees on workplace relations. 
Clearly, a lot of us are doing it and are also having it done to us. Some have even noted that Lawrence herself has been glued to her phone at awards shows in the past.
Only Lawrence herself really knows what the intention behind her off-the-cuff remarks were, so we may never know the truth behind the unfortunate phub flub for sure. Either way, though, if you ever end up meeting Katniss Everdeen, it's probably best to put your phone away and save the selfies for another occasion.