Concussions Be Damned — Donald Trump Says Football Has Gone "Soft"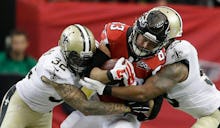 "Football's become soft. Football has become soft," GOP presidential candidate Donald Trump said (twice) at a rally in Iowa on Sunday. 
"But football's become soft like our country has become soft," he added to cheers and nods. "It's true. It's true." Are you convinced?
The candidate said he doesn't even bother watching games all the way through anymore because the sport has lost its appeal without the reckless and made-for-TV hits from concussion deliverymen of yore like Lawrence Taylor and Dick Butkus
"What used to be considered a great tackle, a violent head-on [tackle]. ... You used to see these tackles and it was incredible to watch, right?" Trump said.
"It's become weak and you know what? It's going to affect the NFL," he said. "I don't even watch it as much anymore ... The referees, they want to all throw flags so their wives see them at home. 'Oh, there's my husband. He just broke up — he just gave a 15-yard penalty on one of the most beautiful tackles made this year.'" Amirite?
(Still, one man is exempt from Trumps football aspersions: friend and New England Patriots' quarterback Tom Brady. "It's boring — although I love Tom Brady. I gotta tell you. I do love Tom. He's a great guy.")
And while his latest comments won't draw the same level of outrage that past comments have, controversy abounds nonetheless.  
A growing call for the tempering of NFL games began in 2002, upon extensive research of chronic traumatic encephalopathy. CTE is the result of repetitive brain traumas (a tackle or a punch, for example), found in many boxers, football players and hockey players. And most recently the issue has come back to the forefront with Will Smith's latest role in the movie Concussion. 
"This trauma triggers progressive degeneration of the brain tissue, including the build-up of an abnormal protein called tau," Boston University's CTE Center explains on its website. "The brain degeneration is associated with memory loss, confusion, impaired judgment, impulse control problems, aggression, depression and, eventually, progressive dementia."
Scientists and medical professionals have tried to draw a link between CTE and a propensity for domestic violence, which has gained the league's attention in recent years. (See also: Ray Rice, Jovan Belcher) Several active and retired football players who committed suicide were posthumously found to have symptoms of CTE. 
Trump, then, would perhaps do well to understand that a return to the NFL of the past comes at a high price. With a proven ability to play rough on the campaign trail, the natural next step is for the Donald to show that grit on the gridiron.
Consider that a challenge.