The Story of How David Jones Became David Bowie Will Make You Love His Genius Even More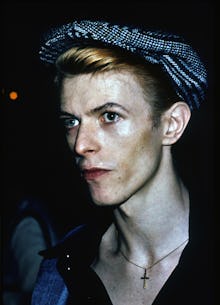 Brad Elterman/Getty Images
In the mid-1960s, David Jones, a young man who had been born and raised in the tumult of post-World War II London, quit high school to chase his dream of being a rock 'n' roll musician. As Rolling Stone reported, Jones, who would become the pop icon David Bowie, played music with a number of different bands — the Konrads, the King Bees, David Jones and the Buzz, the Manish Boys, Davey Jones and the Lower Third — none of which made it big. 
Searching for a new stage name to use as a performer, and hoping to distinguish himself from another musician of the time, Davey Jones of the Monkees, Jones took a new name inspired by a 19th century American frontiersman named James Bowie (whose last name became the name of a popular brand of knife), renaming himself David Bowie. 
Bowie died Sunday at the age of 69 — and as the world looks back on his life and career, it's also a good time to remember that before he was a musical legend, Bowie was a young artist taking risks on a style of performance that many people had never seen before.
"I think my problem used to be that I was always shy and fairly awkward in social situations," Bowie told the Telegraph Magazine in a 1996 interview. "All through my youth, I would use bravado and device — costume and flamboyant behaviour — in a desperate attempt to not be iced out of everything."
Under his new stage name, Bowie flourished as an artist and experimented with costumes and personas, studying dance and theatre with avant-garde performer Lindsay Kemp. But Bowie's first big hit came with his song "Space Oddity," which became a popular single in Europe when it was first released and then charted at No. 15 in the U.S. when it was re-released a few years later, in 1973.
The '70s were the decade in which Bowie rocketed to fame. He performed, for a time, as Ziggy Stardust, an alien rock star who came to Earth to spread peace, music and androgyny to the young people of our planet.
In a time where mop-tops were morphing into hippies, Bowie made a name for himself by wearing sparkles and makeup. "I loved John (Lennon)," Bowie told the Telegraph Magazine in 1996. "I remember asking him once what he thought of glam rock and he said, 'It's just fooking rock 'n' roll with lipstick.' Which was very succinct, but not all that accurate."
Bowie was open about his sexuality as well, despite a public that often challenged his bisexual identity. In a 1976 interview with Playboy, Bowie was asked, "How much of your bisexuality is fact and how much is gimmick?" Bowie responded, "It's true — I am a bisexual. But I can't deny that I've used that fact very well. I suppose it's the best thing that ever happened to me. Fun, too. We'll talk all about it."
Bowie maintained his fame and his artistry for the entirety of his career, creating new music right up until his death, but it was in the '70s that the world first met and started to know Bowie. As thousands mourn his death, Bowie remains, in many minds, the rock star he was when he burst onto the music scene as a young man, unafraid to look and sound different from the mainstream.