2016 Is Brie Larson's Breakout Year — Here's Why We'll Be Seeing More of the 'Room' Star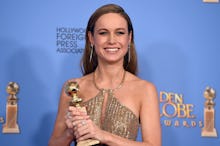 Jordan Strauss/AP
Sunday was a big night for Brie Larson: She won a Golden Globe for best actress in a motion picture for her role in the 2015 drama, Room. Going one-for-one, this was Larson's first Golden Globe nomination and win, the Los Angeles Times reported. It doesn't end there. Critics believe an Oscar is in store for her too, Variety reported.
While the evening was definitely groundbreaking for the actress, Larson is far from new to the camera. She's been in the entertainment industry for almost a decade, starting off in a few episodes of The Tonight Show with Jay Leno in 1998. She gained serious momentum in 2015, and now has leading roles lined up in a variety of upcoming films: The Glass Castle, Kong: Skull Island, Basmati Blues and Free Fire. 
Read more:
"I've never experienced anything like 2015, and I've been working since I was Jacob's age," Larson said, according to USA Today. Jacob Tremblay is her Room child co-star. 
If things continue as they currently are, 26-year-old Larson is in for a breakout year. Part of Larson's appeal is that she grew up on camera, slowly but steadily building a strong and varied resume through comedies, sitcoms, indie films and now major motion dramas. And she remains down-to-earth, having said how aware she is of her mortality, according to the Independent. 
Millennials easily recognize Larson's name from the credit rolls of multiple adolescent sitcoms and made-for-TV movies, such as the family-friendly series Raising Dad — which also starred classic sitcom dad Bob Saget — and the 2003 Disney Channel Original Movie Right on Track. Then she had minor but lovable roles in the popular films Scott Pilgrim vs. the World and 21 Jump Street. 
"I have no problem talking about how hard it's been, how broke I've been and how broke I was not even that long ago," Larson told the Guardian about her work in indie films. The work paid off, and her 22-minute long Short Term 12 won a Sundance award in 2009, the Washington Post reported. As of January 2015, the film had 99% on Rotten Tomatoes. If it wasn't obvious before, this moment showed that Larson is clearly talented.
After that, director Judd Apatow, who did the 40-Year-Old Virgin, personally called Larson for a role with comedian Amy Schumer, who was at her peak popularity for her blunt pokes and prods at modern society, according to an interview she had with Variety. The movie, called Trainwreck, had Larson in a major supporting role as Schumer's sister. The movie was regarded as a hit by many critics, and raked in $10.7 million on its opening night, Forbes reported. 
Then came her leading role in Room. Based off of the critically-acclaimed novel of a kidnapped mother and her son, Larson's take on the role was well-received. To prep for the emotionally tolling role, Larson said she had to "rewire" her brain, according to an interview with NPR. "Hers is the kind of performance that can elevate a career to a new plane," Vanity Fair wrote in its review. 
Evidently so, as Larson replaced Jennifer Lawrence, who is also in her prime, for a role in the similarly heart-tugging book-that-will-turn-into-a-film, The Glass Castle, proving that for Larson, the spotlight has just turned on.