Gunmen Attack Baghdad Mall, Killing at Least 10 — Here's the Latest on Hostage Situation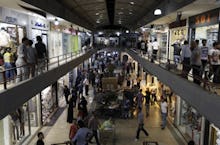 Mic/Twitter
Gunmen stormed the Jawhara mall in Baghdad on Monday, the Associated Press reported, taking hostages and detonating a car bomb outside the shopping center, which is located in the eastern part of the city. The AP initially reported the blast from the bomb killed at least 10 people, including three police officers, and injured 25 more. The AP updated its reports Monday afternoon to state that 18 people were killed. 
Unnamed law enforcement officers and emergency responders told Reuters that at least 20 more people were killed and at least 50 others wounded when two bombs detonated after the blast at the shopping center, this time in town of Muqdadiya, also located in the eastern region of Iraq. The carnage continued, according to Reuters, as seven people were killed by a blast in a suburb of Baghdad to the southeast. 
The attack at the mall ended after more than an hour, according to the AP, with the alleged death of at least two of the militant gunmen and the arrest of four more. 
In the immediate aftermath of the attack, the group responsible was not immediately clear, but according to the AP, the Islamic State group, or ISIS, was the likely attacker. Indeed, ISIS later claimed responsibility for the fatal attack, Agence France-Presse reported. 
The attacked area is largely populated by Shiite Arabs, a group that ISIS often targets. Video footage that allegedly captures the blast on film was shared to Twitter.
There's been no shortage of violence in the Iraqi capital city at the hands of ISIS in recent months. On Nov. 13, the terror organization orchestrated a roadside bomb that took the lives of 26 people and injured dozens more, according to the New York Times. Following that attack, the AP reported that, with the rise of ISIS, "Baghdad has seen near-daily attacks, with roadside bombs, suicide blasts and assassinations targeting Iraqi forces and government officials, with significant casualties among the civilian population." 
At the end of December, Iraqi security forces made headway in their fight against the radical terror organization when they reclaimed the city of Ramadi, CBS reported.
Jan. 11, 2016, 3:11 p.m. Eastern: This story has been updated. 
Correction: Jan. 11, 2016