Here Are Ricky Gervais' 7 Best Jokes From the 2016 Golden Globes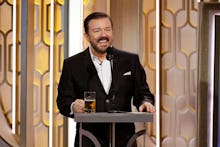 Handout/Getty Images
"You disgusting, pill-popping, sexual deviant scum," is how Golden Globes 2016 host Ricky Gervais greeted his audience of actors and filmmakers at the awards show Sunday. It only went uphill from there — or downhill, depending how sensitive you are — as Gervais cracked his usual series of crass, controversial criticisms about Hollywood throughout the three-hour event. 
Read more:
Gervais returned to host the Globes after Tina Fey and Amy Poehler teamed up to host the past three years — a gig he said they got paid the same as he did for, except they had to split the money. Gervais made several jokes about the gender pay gap and other controversial topics including rape allegations against Bill Cosby and molestation in the Catholic church that inspired the nominated film Spotlight.
Here are Gervais' best jokes of the night: 
1. "The Catholic church are furious about the film [Spotlight], as it exposes the fact that 5% of all their priests have repeatedly molested children and be allowed to continue to work without punishment. Roman Polanski called it the best date movie ever."
2. "Jennifer Lawrence made the news when she demanded equal pay for women in Hollywood, and she received overwhelming support from people everywhere. There were marches on the street with nurses and factory workers saying, 'How the hell can a 25 year-old live on $52 million?'"
3. "All-female remakes are the big thing. There's a female remake of Ghostbusters, there's going to be a female remake of Ocean's Eleven, and this is brilliant for the studios because they get guaranteed box office results and they don't have to spend too much money on the cast."
4. "That award [Golden Globe] is, no offense, worthless. It's a bit of metal that some nice old confused journalists wanted to give you in person so they could meet you and have a selfie with you."
5. "I've got three Golden Globes myself ... One's a doorstop, one I use to hit burglars with and one I keep by the bed to — doesn't matter why, it's mine. I won it fair and square, it's just the right shape and size. So to be clear, that was a joke about me shoving Golden Globes that I've won up my ass."
6. "I want to say something nice about Mel [Gibson] before he comes out, so here goes. I'd rather have a drink with him in his hotel room tonight than Bill Cosby."
7. "Our next presenter is the most respected actor in the room ... that isn't saying much. Please welcome Morgan Freeman."
Watch Gervais' entire opening monologue: