So What the Hell Is Going on With the Oscar Race?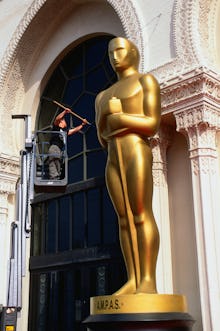 Last night's Golden Globes did little to clear up an increasingly confusing race toward this year's Academy Awards. Best picture and best director went to The Revenant, a film no one saw coming, while Kate Winslet stood tall among a very muddled supporting actress crop. One thing is clear in the Globes' wake: This is the most interesting, hard-to-predict Oscar race in years.
With nominations on the horizon Thursday morning, it's time to take stock of where things stand in the top six races — best picture, best director and the four acting categories. Who's locked up? Which races are too close to call? Can Leonardo DiCaprio finally win that Oscar?
What we know
There are exactly two clear winners in the top categories right now: best actress and best actor. The latter is a mortal lock for DiCaprio, a Golden Globe winner Sunday night for The Revenant. In a pretty shallow Oscar best actor crop — Bryan Cranston in Trumbo? — DiCaprio's commitment to the role should take him over the finish line. Did you hear that he suffered while filming The Revenant?
Meanwhile, over in best actress, it's conceivable that Brie Larson (Room) could lose, but it's not likely. If there were anywhere her closest competitor Saoirse Ronan (Brooklyn) could win, it would have been the Golden Globes. Larson winning indicates she's free and clear to get to the Oscar stage unscathed.
What we might know
Sylvester Stallone won a Golden Globe for best supporting actor, avoided major controversy with his acceptance speech and safely secured a frontrunner's seat for the Oscar. There's something poetic about the actor winning for playing Rocky Balboa in Creed decades after he originated the role in Rocky. 
However, he's not totally uncontested. Mark Rylance, a beloved theater actor with multiple Tony awards, won multiple critics' awards for his role in Steven Spielberg's Cold War thriller Bridge of Spies. As a British thespian, he's cut from the cloth the Oscar likes (see: Daniel Day-Lewis, Michael Caine). If Stallone's heat cools, Rylance has a shot.
What's totally up in the air
Not only is it unclear who's going to win best supporting actress, it's also impossible to predict what the nominees will look like. The studios behind Carol and The Danish Girl have campaigned stars Alicia Vikander and Rooney Mara in the supporting category despite the fact that their characters are clearly leads. They had to compete as lead actresses at the Golden Globes thanks to the Hollywood Foreign Press Association's ruling, but Oscar voters will place them in whichever category they find most fitting.
Adding to this confusion: Vikander has another performance in contention for best supporting actress this year. Her work in Ex Machina earned her a best supporting actress Globe nomination — one she lost to Steve Jobs' Kate Winslet. A second Oscar for Winslet (she won for The Reader in 2009) feels premature, and Vikander is a hot star on the rise. But can she win when she may be splitting her own vote not just between performances, but across categories?
Best picture and best director are equally confusing, largely because the Golden Globes went hard for The Revenant. It's hard to imagine the Oscars awarding director Alejandro G. Iñárritu two years in a row (his Birdman won best picture last year), so they'll likely opt for another option. But which? 
The Martian won the Globe, The Big Short has the all-important Screen Actors Guild ensemble nomination and Carol is a critical favorite. Yet now more than ever, it seems like Spotlight is the relatively safe option that will triumph amid the chaos — though it will need to surge in support in the next few weeks.
Best director probably won't go to Tom McCarthy of Spotlight, though. That film's strength is in the script and its ensemble, while the direction is fairly utilitarian. The Academy will probably go for a flashier option: If they like Carol, they could give it to Todd Haynes. If The Martian is strong, director Ridley Scott is certainly deserving. If voters are in a wild mood, they could always go for George Miller for Mad Max: Fury Road. 
It, like so much of this race, is a tossup. What frustration — and what fun.