New Poll Shows Trump With a Commanding Lead Over GOP Field in New Hampshire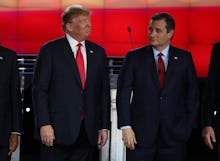 Donald Trump is widening his lead over the rest of the Republican presidential primary pack in New Hampshire, according to a new poll that shows Sen. Ted Cruz of Texas gaining ground and Ben Carson flatlining.
Trump, the frontrunner for the GOP nomination, is the choice of 32% of likely primary voters surveyed by Monmouth University, with Cruz and Ohio Gov. John Kasich tied for second place at 14%. Florida Sen. Marco Rubio comes in third with 12% support.
"As Granite State voters start to firm up their decision, it's looking more and more unlikely that Trump will be toppled from his perch," said Patrick Murray, director of the Monmouth University Polling Institute, which rolled out its results Monday. "The real fight is for second place."
A month out from New Hampshire's first in the nation primary, about a third of likely voters say they're committed to a candidate — up from 20% in November. Trump supporters, as has been the case in most other major surveys, are the most loyal, with 46% saying they won't change their minds before they head to the polls.
A solid chunk of likely primary voters, 42%, say they've got a strong preference for a particular candidate but are open to other options, while 15% say they have a mild preference and 12% still don't know who will get their support.
What it means: The poll's results show that the fight for the silver medal in the Granite State could be a serious brawl, with candidates eager to use a second-place showing as evidence that they're serious contenders as primary cycle rolls on.
The Monmouth poll also comes a day after an NBC News/Marist poll reported Cruz squeaking past Trump in early voting Iowa by a margin of 28% to 24%, including voters who are undecided but leaning toward a candidate.
In a Monmouth tally combining voters' first and second choices, Trump, the real-estate mogul and former reality show star, dominates at 40% support, while Cruz "may be able to get up to 35% support." Rubio pulls 23% potential backing when first and second choices are combined, with Kasich and New Jersey Gov. Chris Christie, who's been working overtime to woo New Hampshire voters, tied at 20%. The onetime frontrunner, former Florida Gov. Jeb Bush, pulls together only 13% backing when first and second choices are considered, Monmouth found.
Cruz was found to be the leading second-choice option, with 21% of New Hampshire Republicans saying he was their backup:
Carson fizzles: The worst news comes for Carson's camp. The retired neurosurgeon, who enjoyed a surge of support earlier in the primary cycle, positively tanked in Monday's Monmouth poll.
Carson's support among those likely to vote in the New Hampshire primary plunged from 16% in November to just 3% now. On top of that, the poll found the percentage of voters who view him favorably sank by 27% since September.
In a particularly stinging sign that Carson's campaign may have peaked, WMUR reported Monday that all five paid New Hampshire employees of a pro-Carson super PAC quit their jobs Sunday and jumped to Team Cruz.
On the issues, Monmouth found New Hampshire voters most concerned about national security and terrorism, followed by jobs and the economy, taxes and immigration.
"Overall, New Hampshire voters hold a generally favorable opinion of the Republican field and the majority would be able to live with a variety of candidates becoming the GOP nominee," Monmouth pollsters reported. "This includes Trump (26% would feel enthusiastic and 30% satisfied), Cruz (20% enthusiastic and 44% satisfied), Rubio (13% enthusiastic and 51% satisfied) or Christie (9% enthusiastic and 47% satisfied)."