Forget the Oscars — Here's What It's Like to Be a Voter at Porn's Biggest Awards Show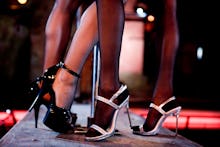 "I don't know that I have a least favorite part [about being a voter]," Jennifer Peters told Mic. "I think that the hardest part though is always watching friends' scenes."
You might be wondering why Peters would find it difficult to watch her friends on screen. It's because, though her friends are performing in various types of scenes and films, she's not a judge in the Golden Globes. She's a judge for the AVN awards.
Sponsored and presented annually by the trade publication Adult Video News (link NSFW), the AVN Awards are often referred to as the "Oscars of Porn." Just like its Hollywood counterpart, the ceremony recognizes achievement in various aspects of adult content production: there are awards for Best Actress, Best Director, and Best Editing, as well as best cinematography and makeup and music and so much more. But unlike the Oscars, the AVNs also recognize porno-specific achievements – things like best anal sex scene, best BDSM movie, and best girl/girl sex scene, among many others.
While winning an award for something like best group sex scene may seem like a liability to those outside the adult entertainment industry, to those inside the industry, the AVN awards are extremely significant. Anikka Albrite, AVN's 2015 female performer of the year, who has been nominated for 13 awards in 2016, said an AVN award catapults winners to a new level in their careers. 
"When I won the female performer of the year award, it felt like people, especially newer [performers] and fans, saw me as a role model," Albrite said. "It made me a respected representative for the adult industry."
When the AVN awards began in 1984, there were only 17 categories honored. For 2016, there are 114. In years past, there have been as many as 140, says Peter Warren, 40, head of the AVN awards voting process.
According to Warren, who provided AVN's voting figures to Mic, 23 voters were involved in the 2016 voting process, five of which are in-house members of AVN's editorial staff. (Like the awards categories themselves, the number of voters fluctuates, though not nearly as dramatically or frequently.) This means that, starting in early December, 23 people received hundreds of DVDs via snail mail and were granted access to every type of porno website you can imagine – all so they could view the nominated content and cast their votes.
While the adult entertainment world holds its breath in anticipation of the January 23rd awards show, Mic spoke with several voters for the AVN awards, discussing everything from weeks of non-stop porn viewing to rumors that the awards are fixed. We wanted to know: What exactly is it like to be a judge in the porn Oscars?
The Veteran
Don Houston is a regular volunteer for US Veterans who rescues dogs in his spare time. He's in his 50s and has a master's degree. He has also been an AVN awards voter for eight years.
Houston works as a managing editor and the lead reviewer for XCritic (link NSFW), an adult content review site. He describes himself as an avid porn enthusiast who's reviewed in excess of 10,000 movies since the early 1980s.
"I watch a great deal of porn throughout the year, much of what eventually gets nominated, which cuts down on the end-of-year rush," he explains. "If I didn't, it would be physically impossible to vote in many categories – there are only so many hours in a day."
Although the amount of content each voter must consider is pretty overwhelming, the basic voting process itself is quite simple. Voters rank their choices in each category, from best to worst. In a category with fifteen nominees, for example, a voter's top choice gets fifteen points, their second choice gets fourteen points, and so on. The nominee with the most points after all the voters' choices have been aggregated is the winner.
Voters have plenty of agency to put their own spin on the process, organizing their viewing and rankings around specific indicators in each category. A general performance award such as best new starlet (think "hot ingénue that's relatively new to the porn industry") considers a performer's body of work, from different types of scenes and their quality to the total number of sex scenes overall. A feature category — something like best drama, an award Wicked Pictures' Wanted (link NSFW) is nominated for this year — considers how well the sex is integrated into the overarching narrative, production value, and casting. 
The Editrix 
Jennifer Peters is a freelance reporter covering military and defense for Vice. She's also been working in the adult industry as a writer and editor for adult content and trade publications since 2006. Peters became an AVN awards voter for the 2012 program, and she's currently one of eight women on the roster for 2016.
Peters has a day job, which means all of her voter-sanctioned viewing has to happen at night and on the weekends. "I'm often watching [porn] while folding laundry or baking cookies or whatever other things I have to do after work," she said, laughing. "A lot of times, I watch with the TV on mute. There's only so much moaning and grunting I can take at once."
Every awards-granting organization faces criticism, including accusations of fixing and bias. The aVN Awards are no different. Though Peters acknowledges others may have acted dishonestly in the past, she cites her time in the industry as one of the main reasons why nominees couldn't sway her during the voting process, even if they wanted to.
"One of the 'perks' of being in the industry for so long is that autographed DVDs or new swag don't really have any impact on me," she told Mic. "Chances are I've interviewed whoever it is whose autograph is being given to me, and I don't need more crap filling up my apartment, so short of buying me a pony, there's nothing a nominee could really do to curry favor with me."
The Anonymous Voter
Because of the general public's stigmatization of porn, some voters prefer to remain anonymous. Mic spoke to one such voter – a college educated person in their mid-40s named Kelly*.
Kelly's full-time "day job" is actually at night, leaving daytime hours free for reviewing porn, which they do several times per week. Kelly told Mic that the review process has tapered in recent years, however, as fewer studios send out even less content. This pattern is tied to the complex issue of adult content piracy and producers' subsequent belt-tightening. Kelly also mentioned that this year's voting process yielded the least number of nominee screeners in their five-year tenure as a voter.
According to Kelly, it's easier to vote in some categories and more challenging to vote in others, largely due to their personal content preferences. Kelly, for instance, votes primarily in the all-sex (meaning, non-narrative) and gonzo award categories, because they have more experience reviewing such content.
"The [all-sex categories] are much easier for me since that's where the majority of my reviews lay," Kelly said. "I'm more hit-and-miss on features. That's an area I strive to improve on each year but seem to fall a little short on watching, so I try and watch as much of those when they arrive so I can offer up a solid vote in those categories."
Given the amount of time and energy Kelly puts into the AVN awards, it stands to reason that they derive some deeper satisfaction out of being a voter. 
"I'm a fan of what these performers do," they told Mic. "To visually fulfill so many fantasies that so many of us have sexually is a big deal for me. I appreciate what what they go through to provide us this stimulating material to enjoy."
The Porn Professional
"The awards are 'fixed'? I've been here long enough that now I just laugh when I hear that accusation. If that were the case, why would so many of us give up so much of our lives for so long?" Sherri L. Shaulis asked, rhetorically.
Shaulis, 46, is the senior editor of Pleasure Products for AVN. She started working for the magazine a little more than eight years ago and has been a voter, as well as a member of the nominating committee, for six or seven. "I lose track," she said, laughing. "I was not automatically granted voting privileges. I had to prove my worth by working my way up the ladder."
During the nominations process, Shaulis spend hours each day sitting in a conference room with other committee members going over every single submitted  pre-nomination for every single category. The whole thing takes approximately seven weeks and includes watching hundreds of hours of sex scenes and acting scenes. This is in addition to reviewing and critiquing everything from hair and makeup to sets and costumes and cinematography and scripts.
"This year alone, we had one category that had several hundred pre-nominations submitted and, as a committee, we had to examine those entries and narrow down the list to the fifteen nominees," Shaulis explains.
It's a process few truly understand and many criticize. In an infamous piece about the AVN awards, writer David Foster Wallace quoted gonzo porn auteur Max Hardcore accusing the AVN awards of being fixed, with Hardcore saying that the awards were "a total conflict of interests" due to frequent winners placing ads in the magazine.
In order to combat rumors about "fixing" and give fans and industry insiders a peek behind the scenes, Shaulis took to Twitter to live-tweet the AVN nomination meetings. Though she doesn't mention names or titles in her tweets, she shares some of the funnier comments that are said during the meetings.
"Quite a few people in the industry tell me it's their favorite part of awards season," she said. "They love trying to figure out who or what we're talking about."
Shaulis emphasizes the significance of the awards, something she doesn't feel people outside the industry necessarily understand. "Some people might say, 'It's just porn' and have this preconceived notion that it's just a few naked people and a camera. But I look at it as a film genre that so many people love."