Obama Address 2016: Latest Buzz Surrounding POTUS State of the Union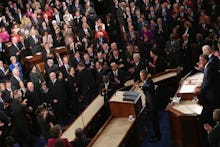 Alex Wong/Getty Images
President Barack Obama will deliver his final State of the Union address in front of Congress at 9 p.m. EST on Tuesday. "Since I took office seven years ago in the midst of crisis, I don't think I have ever been more optimistic about a year ahead than I am right now," Obama said in an video promoting his speech, which was later shared to YouTube. "And in what free moments I can take right now I'm working on my State of the Union address. It's my last one. And as I'm writing, I keep thinking about the road that we've traveled together these past seven years — the people I've met, the stories that you've shared, the remarkable things you've done to make change happen, to recover from crisis and set this country on a better, stronger course for tomorrow."
Read more:
During his State of the Union address in 2009, Obama had a similarly positive message for the American people.
"If we come together and lift this nation from the depths of this crisis; if we put our people back to work and restart the engine of our prosperity; if we confront without fear the challenges of our time and summon that enduring spirit of an America that does not quit, then someday years from now our children can tell their children that this was the time when we performed, in the words that are carved into this very chamber, 'something worthy to be remembered,'" he said. 
Perhaps in an attempt to draw as large of an audience as possible on Tuesday, the White House is getting creative across its social media accounts. And judging by the response to, and engagement with, the White House's content on Twitter, Facebook and Instagram, Americans are fired up about the upcoming address. One post to Instagram which shows Obama addressing Congress, and which quotes his 2009 speech, had garnered more than 17,000 likes as of Monday. 
In another post on Instagram, the White House's press secretary, Josh Earnest, announced that he was commandeering the Instagram account leading up to the address in order to document the pre-SOTU process. 
"I'm taking over the White House Instagram account today to give you a behind-the-scenes look as we prep for President Obama's final State of the Union address," Earnest wrote. "Right now, I'm reviewing my prep materials ahead of today's press briefing with the White House Press Corps, where I'll be taking questions about tomorrow's speech — among many other topics."
The White House also shared a black and white video on Twitter depicting a reflective Obama. 
And just in time for the event, the White House activated its very first Snapchat account on Monday with a pledge to push State of the Union content on the platform as it unfolds. 
In advance of Tuesday's speech, here's Obama's preview of his upcoming congressional address: