Here's What Millennials Really Want to Hear From Their Presidential Candidates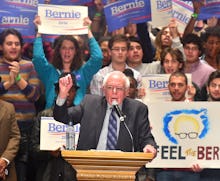 Millennial voters helped elect President Barack Obama in 2008, awarding him two-thirds of their votes and setting political observers abuzz over an ascendant liberal generation. 
Eight years later, as the end of the Obama era approaches, a new survey finds that millennials still evince the fundamental idealism that Obama's campaign tapped, but that idealism is tempered by a skepticism of the political process and a worldview that can't be neatly pigeonholed into conventional ideological categories.
The USA Today/Rock the Vote Millennial Poll, released Monday, found that 55% of 18- to 34-year-olds think there are better ways to affect change than by voting, with nearly four in 10 saying they don't believe their votes matter. Still, 60% say they're currently planning on voting in November; in 2008, 51% of eligible millennials voted, according to Tufts University's Center for Information and Research on Civic Learning and Engagement.
The results: Congruent with a recent Harvard Institute of Politics survey of millennials, the poll showed that young Democrats and Independents back Sen. Bernie Sanders for their party's nomination, favoring him 46% to 35% over Hillary Clinton, with Martin O'Malley far behind at 5% support. Interestingly, Democratic-leaning men backed Sanders by a 4-point margin, but women gave him a 20-point lead over Clinton, who's vying to become the first woman president but has struggled to win over younger feminists attracted to Sanders' message of reducing income inequality, as the New York Times noted in December. Millennials of color backed Sanders 42% to 41%; while statistically insignificant, that lead is a sharp contrast to polls that show voters of color overall strongly favoring Clinton. 
Meanwhile, Republican millennials awarded 26% support to Donald Trump, followed by Ben Carson at 11% and Sen. Marco Rubio at 9%. Jeb Bush and Ted Cruz each garnered 8%.
Ideologically, millennials hold a mixture of views: 38% described themselves as economic conservatives, while 33% said they were liberal on economic issues. On foreign policy, 37% labeled themselves conservative compared with 28% who said they were liberal. On social issues, though, millennials lean left: 42% said they were liberal on those issues, while 32% indicated they were conservative.
When it comes to specific policy issues, millennials show strong support for a range of center-left policy priorities, like tackling climate change, accepting refugees from the Middle East, pursuing criminal justice reform and implementing new gun control measures, the poll found.
As the 2016 election officially gets underway with the kickoff Iowa caucuses on Feb. 1, the economy is foremost on millennials' minds: 35% said it was their top concern, followed by education at 28%, foreign policy at 25%, health care at 24% and gun safety at 23%.