Here Are 5 Times Nicki Minaj Called Someone Out on Twitter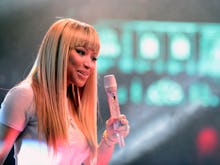 Bryan Steffy/Getty Images
It's just a few days into 2016, and rapper Nicki Minaj has started her latest Twitter feud. This time, the Grammy-nominated star picked a fight with Teen Mom OG's Farrah Abraham by bluntly tweeting, "Farrah is a cunt to her mother" during an airing of its latest episode on Sunday. 
Abraham quickly responded by tweeting, "Cause your a parent right?" and adding that Minaj's music videos "look like porn" and wishing her luck with "being negative." Minaj continued to take Abraham's mother's side, telling Abraham to be "happy" that her mother is even helping her out, and then correcting Abraham's grammar. "To be clear my mom doesn't help me I help her," Abraham tweeted back. 
Read more:
The exchanges seem to have subsided, and Abraham released a statement, saying that she was in "disbelief" upon learning about Minaj's tweets. 
"Disbelief" may not be the most accurate word, since Minaj is notorious for calling out names and voicing her opinions in 140 characters or less. Sometimes it's about serious social issues and her struggle as a black female rapper — and other times it's not. Below are five times Minaj has gotten into a Twitter feud with fellow celebrities.
1. Mariah Carey
Back in 2013, Minaj and Mariah Carey were both judges on the 12th season of American Idol. The feud escalated when Carey mentioned how Minaj has yet to top Billboard's Hot 100 singles chart, Us Magazine reported. Minaj didn't take the comment well and hopped on Twitter to call Carey "insecure" and "bitter."
2. Gucci Mane
In 2013, rapper Gucci Mane very publicly tweeted the very intimate — and offensive — thoughts and claims of women he supposedly has or wants to sleep with, the New York Daily News reported. Among them was a tweet claiming that he slept with Minaj. Minaj cleared things up by tweeting, "May God strike me dead if I ever had sex wit that man #ugliness. He's sick and in dire need of rehab. #Love." Both tweets have since been deleted. 
3. Celebrity gossip tabloid Bossip
In December, the gossip site tweeted about not enough female rappers being mainstream, and later retweeted someone's tweet, which attributed Minaj's success to her famous butt, and also called men "visual creatures," Bustle reported. Minaj rightly defended herself against the comment by saying that a male rapper would've been "hailed as a GREAT as well."
4. Christina Milian
In March, singer Christina Milian tweeted a photo of herself advertising a sweatshirt that read "Pretty on Fleek," which is a phrase sang by Minaj in her duet with Beyonce "Feeling Myself." Minaj called out the imitation on Instagram. The tension was quickly settled, with Minaj telling Milian, "All good babe," on Twitter. 
5. Taylor Swift (and more)
Perhaps the most well-known Twitter feud involving Minaj in 2015 was between her and Taylor Swift. The MTV Video Music Awards nominations were announced in July, and Minaj's hit "Anaconda" wasn't nominated for video of the year, Billboard reported. Minaj, who felt snubbed, tweeted, "If your video celebrates women with very slim bodies, you will be nominated for vid of the year." 
Fellow star Taylor Swift, whose action movie-like video for "Bad Blood" was nominated for the award, felt like Minaj's comment was directed at her. She replied by tweeting, "I've done nothing but love and support you." Minaj denied that it was about Swift, although the only other woman up for the award was Beyonce. 
Others stars, like Miley Cyrus and Ed Sheeran, weighed in, prompting Minaj to call out "white media and their tactics." 
Swift eventually apologized and the two really did perform together at that very MTV Video Music Awards in August.
Moral of the story: Stay on Minaj's good side.