Read Marilyn Manson's Touching Tribute to the Late David Bowie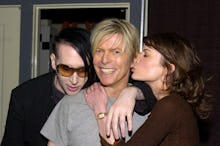 Few musicians have dedicated themselves so wholly and totally to innovation and reinvention as David Bowie. He was an artist's artist, and his death Sunday has left the music community reeling. Artists from across the genre spectrum — from the Weeknd to Brian Eno to Iggy Pop — have weighed in on the artist's passing, sharing their Bowie stories and the influences he has had on their careers.
Marilyn Manson, the metal musician whose shock-and-awe tactics have made him a target for parents and censorship in the past, penned his own poignant tribute for Rolling Stone. In the piece, he narrated that moment of realization every young Bowie fan has had, when they realize Bowie is no ordinary rock 'n' roll icon. He was a true artist who understood the process of creating identity and manipulating one's personal fiction better than just about anybody.
Manson writes that his "first introduction" to Bowie was watching his disturbing, lo-fi "Ashes to Ashes" video on MTV. "I was confused and captivated," Manson wrote. "But it wasn't until my first real stay in Los Angeles, around 1997, that someone told me to take a moment to listen to something other than Ziggy Stardust, Aladdin Sane and Hunky Dory. So I went for a dizzying car ride through the Hollywood Hills and listened to 'Diamond Dogs.'"
That ride took Manson's admiration to entirely new heights.
"All of my nostalgia instantly turned to awe," he wrote. "I was hearing him sing about fiction as a mask to show his naked soul. This changed my life forever. Every song of his was a way for me to communicate to others. It was a sedative. An arousal. A love letter I could never have written."
With his comments, Manson joins others in music who have taken time to share their feelings on Bowie's 50 plus years in music. In a tweet, Kanye West called Bowie "one of my most important inspirations, so fearless, so creative. He gave us magic for a lifetime."
Laura Jane Grace, frontwoman of Against Me!, took an even stronger stand for his legacy. "I'd argue that punk rock owes nearly everything to Bowie," she tweeted, quoting lyrics from his "Ziggy Stardust." "Ziggy played for time, jiving us that we were voodoo. The kids were just crass!"
This is exactly the way Manson encourages fans to cope with their loss: play his music and play it loud. "This crushing moment of fear and loss can only be treated the way his music has affected everyone who was fortunate enough to hear and love it," he wrote for Rolling Stone. "Let's never let go of what he gave us."
Look back at Bowie's biggest hits and the stories behind them with Mic's listening guide.