Republican Presidential Debate Schedule 2016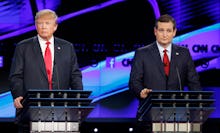 John Locher/AP
The Republican presidential hopefuls have a busy start to 2016: The GOP candidates have a total of seven debates remaining in the race for the White House. 
According to recent polls, business tycoon Donald Trump has a jump on the other candidates. On Friday, Fox News reported that Trump was ahead in the polls, with 35% of Republican primary voters' favor, followed by Texas Sen. Ted Cruz, who's polling at 20%, and Florida Sen. Marco Rubio, who's polling at 13%. 
The remaining Republican candidates are retired neurosurgeon Ben Carson, former Florida Gov. Jeb Bush, New Jersey Gov. Chris Christie, former Hewlett-Packard CEO Carly Fiorina, former Virginia Gov. Jim Gilmore, former Arkansas Gov. Mike Huckabee, Ohio Gov. John Kasich, Kentucky Sen. Rand Paul and former Pennsylvania Sen. Rick Santorum. 
Read more:
Here's the rundown on the upcoming Republican presidential debates, according to Election Central: 
The first debate of the new year will take place Thursday at 9 p.m. Eastern. Fox Business Network will host the debate from the North Charleston Coliseum in North Charleston, South Carolina. The following debate will take place at the end of the month, on Jan. 28, at the Iowa Events Center in Des Moines, Iowa. That debate will also begin at 9 p.m. Eastern, and Fox News will run the show.
Three Republican debates are scheduled to take place in February, on Feb. 6, Feb. 13 and Feb. 26. Debate hosts for Feb. 6 and Feb. 13 will be ABC and CBS, respectively, while a host for Feb. 26 has yet to be announced, though National Review will be a sponsor.
Two Republican debates will follow in March. CNN/Salem Media Group will host one on March 10; Fox News will host the second on a date that's yet to be determined. 
The last time the GOP presidential hopefuls debated was on Dec. 15 in Las Vegas, Nevada. The event was the fifth time the candidates had gathered onstage to debate.