Actress Noma Dumezweni Has a Message for Anyone Who Says She Can't Play Hermione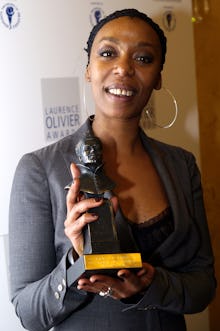 When it was announced in December that Noma Dumezweni, a black actress, would portray Hermione in the play Harry Potter and the Cursed Child, she received the be-all-end-all seal of approval from J.K. Rowling herself, who tweeted, "Rowling loves black Hermione." 
Emma Watson appeared to have shared in that love:
But still, the internet being what it is, there was no shortage of haters who argued that Hermione could never be played by a person of color, pointing to a passage in Harry Potter and the Prisoner of Azkaban in which Hermione is described as having a "white face."
In an interview with the Evening Standard, Dumezweni spoke up against the flak. "It stems from ignorance," she said. "They don't want to be a part of the creative act. To say it's not as it was intended is so unimaginative."
The English actress told the Standard that while she's no stranger to prejudice, she has never had anyone so blatantly doubt her acting abilities based on her skin color as she did after the Cursed Child announcement. Dumezweni said, "I don't think they understand how theater works. We're here to heal you, make you smile and whisk you away. ... The only question we should ask is 'Are they good?' I've met great actors black and white and I've met bad actors black and white."